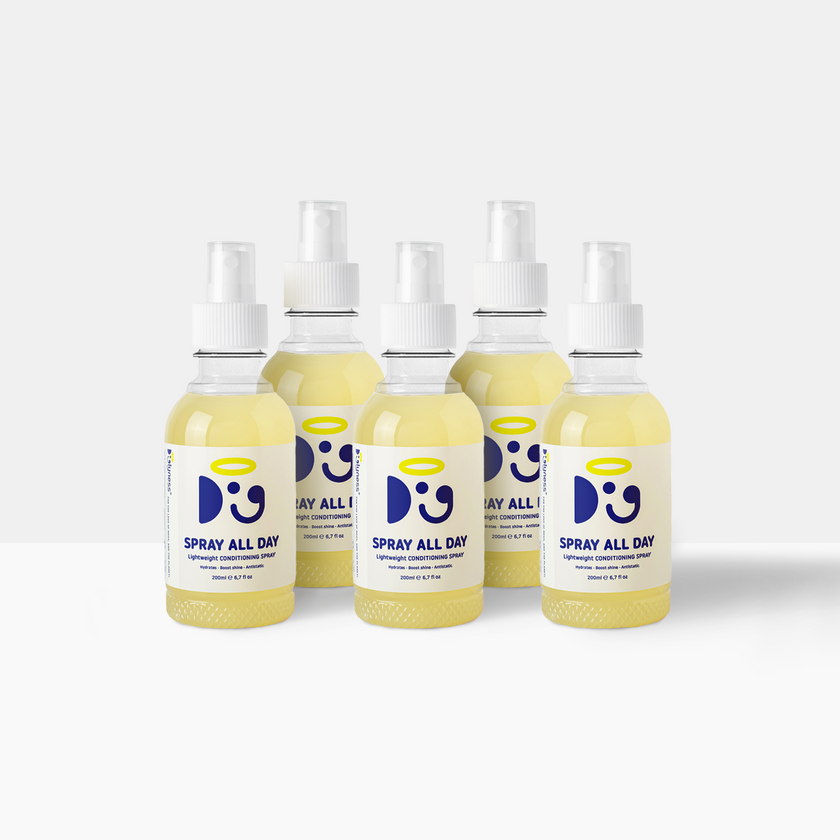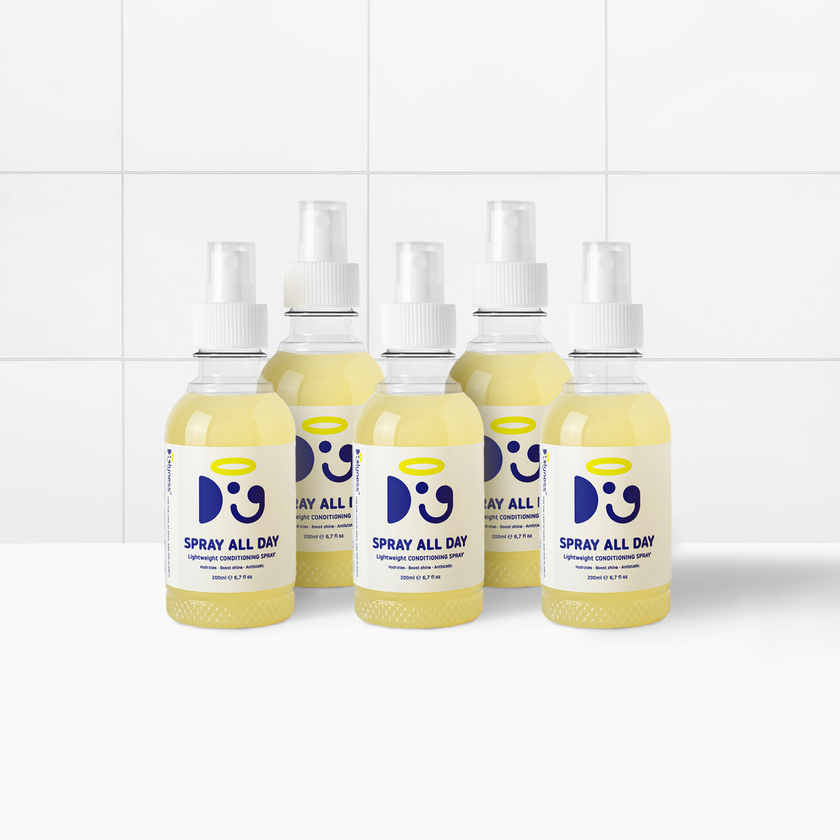 SPRAY ALL DAY SAVVY SET | Brush, Shine, Texture, Style & Save
KEY BENEFITS OF THIS VERSATILE SPRAY
Smooth, Sleek, and Lustrous Coat: Experience the transformation of your dog's coat as our conditioning spray leaves it looking impeccably smooth, sleek, and irresistibly lustrous.
Softens and Polishes Dry Ends: No more worries about dry, lacklustre ends. Our spray helps soften and polish even the driest ends, leaving your dog's coat beautifully revitalised and healthy-looking.
Ease Detangling: The spray coats each strand of hair, providing a weightless lubricating effect that reduces friction and facilitates smooth gliding of the brush or comb through the coat. This helps to prevent hair breakage and minimise any pulling or tugging on the hair, making the detangling process more comfortable for your pet.
Refreshes and Reconditions Hair: With just a spritz or two, watch as our conditioning spray works its magic, instantly refreshing and reconditioning your dog's hair. Enjoy the rejuvenating effects of this lightweight spray between shampoos, keeping your dog's coat in optimal condition.
Effortless Scissoring: Say goodbye to static-induced frustrations during the scissoring process. Our weightless conditioning spray eliminates static, making scissoring a breeze and ensuring a seamless grooming experience.
WHAT´S IN IT
5 x Spray All Day – Lightweight conditioning spray 200ml - 6.8 16.9 fl. oz.
Shake well before each use. Spray liberally on the hair you want to brush or detangle, working well into tangled areas with your fingertips. Brush through gently, starting at the tip of the coat and working down to the skin, until the brush runs freely through the coat. Aim this ultra-fine mist anywhere you need instant weightless hydration and shine.
- This spray can also be used during the drying phase to condition the long hair or to remove persistent knots.
- Groomers can use this spray as an effective and most natural solution to ease the scissoring process.
- At dog shows, this spray can be used as pre-ring support to define the hair and to increase its lustre.
Aqua *, Aloe Barbadensis Leaf Juice */**, Glycerin */**, Hydroxypropyltrimonium Lemon Protein *, Benzyl Alcohol, Sodium Levulinate *, Polyglyceryl-10 Caprylate/Caprate *, Panthenol, Sodium Chloride *, Dehydroacetic Acid, Potassium Sorbate, Fragrance (Allergen- Free Composition), Sodium Phytate *, Citric Acid *
* Ingredients From Natural Origin (98,5%)
** Ingredients From Organic Agricultural Source (12,0%)
Certified organic and vegan by Ecogea.org
Organic and vegan certified by Ecogea.org
≥98% Ingredients from natural origin
Filled in 100% compostable Veganbottle®
Tearless, hypoallergenic ingredients
Allergen-Free fragrance
Promotes overall coat and skin health
Boost texture, volume and shine
Beneficial for all coats and skin types
WHAT´S NOT IN IT
GMOs and cancerogenic substances

Ethanolamine Compounds (MEA, DEA, TEA, and others)
Mineral Oils

Parabens

Petrochemicals

Phenoxyethanol

Phthalates

Polyethylene Glycol (PEG)

Propylene Glycol (PPG)

Silicones

Sulphates

Synthetic Dyes
Triclosan
Why a "NO Nasties pledge"?
We firmly believe that investing in quality and certified organic products for your pet means investing in their health to ensure prosperity and well-being.
Specifically, we're proud to say that all Doglyness products are free from any of the ingredients listed here, which are instead common in most commercial pet shampoos and conditioners, and that can turn out to be harmful in the long run.
We are proud to be the first pet brand in the industry that uses patented Veganbottle® made with 100% raw compostable materials, including bottle caps and labels. Our bottle does not contain harsh oil ingredients and plastics, and it's made through a complex process of extracting sugar cane and plant combinations. In addition, we combat plastic pollution by banning any plastic or non-sustainable materials used in production, packaging, shipping, and storage.
Learn more about our Plastic-Free pledge here.
The Doglyness Way
At Doglyness, we take our responsibility seriously, striving to provide you with the most sustainable and transparent options for all your pet grooming needs. Recognizing the significant environmental impact of the pet grooming industry, we were driven to make a change. Extensive research and dedication have enabled us to discover effective methods of delivering top-quality products without compromising the well-being of our planet.