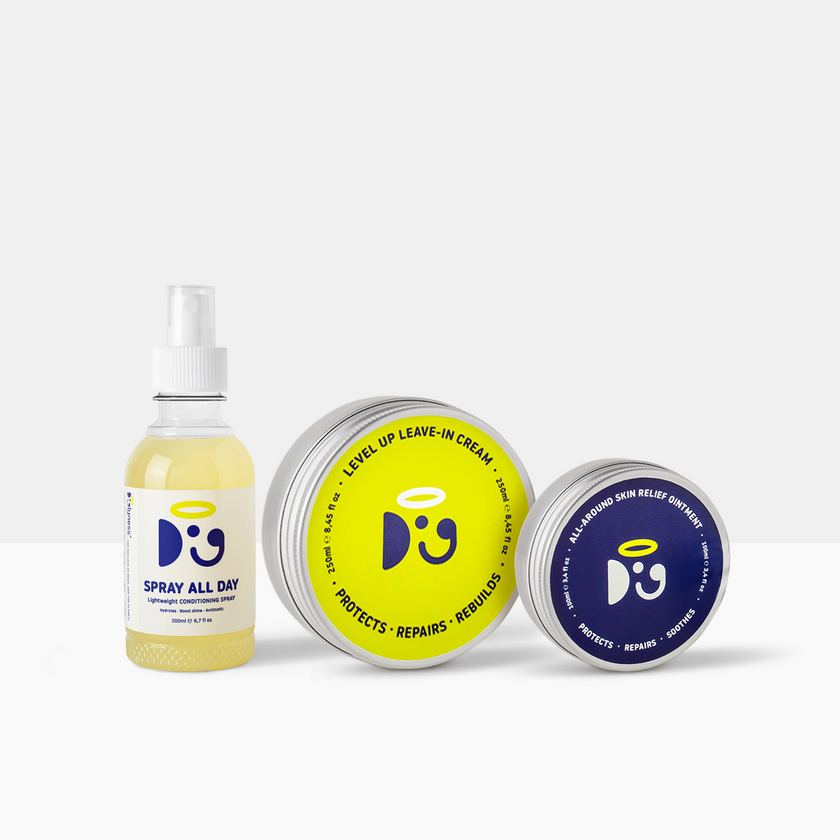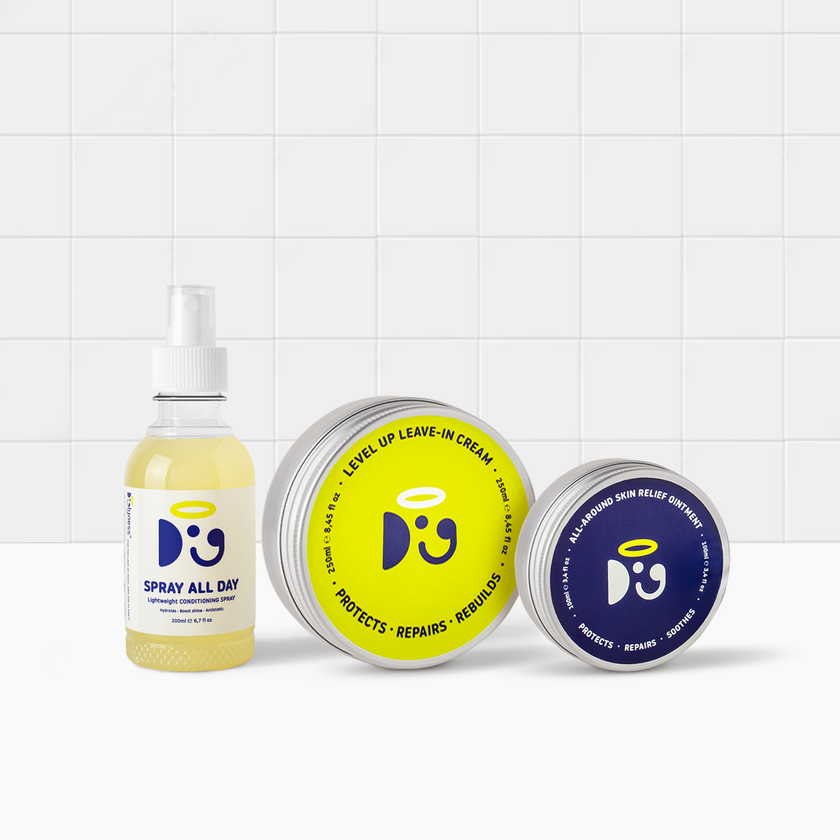 LEVEL UP YOUR GAME SET | Elevate Your Grooming Routine
Level Up Leave-in Cream: Nourish and protect your dog's coat with our Level Up Leave-in Cream. This innovative formula contains natural botanicals that deeply penetrate hair follicles, delivering essential nutrients and acting as a protective shield on the coat. By replenishing moisture and soothing dry and damaged coat, it leaves the coat smoother, hydrated, and visibly healthier.
All-Around Skin Relief Ointment: Our All-Around Skin Relief Ointment is a 100% natural and organic solution that aids in regenerating your dog's skin, offering much-needed relief from discomfort, and supporting a healthy healing process. Experience the soothing benefits of this ointment as it promotes skin regeneration and provides lasting comfort for your beloved pet.
Spray All Day Lightweight Conditioning Spray: This weightless dog conditioning spray is the perfect solution to infuse shine and hydration into your dog's coat. Its lightweight formula effortlessly revitalises dry coat while acting as a protective barrier during the scissoring and brushing process, preventing breakage, frizz and damage.
With this comprehensive bundle, your dog will experience the utmost care and protection for their skin and coat in between shampoos. Trust our products to nourish, heal, and enhance your dog's coat most naturally, ensuring they look and feel their best every day. Elevate your dog's grooming routine with this essential set today.
WHAT´S IN IT
1 x Level Up Leave-In Cream 250ml – 8.45 16.9 fl. oz.
1 x Spray All Day – Lightweight conditioning spray 200ml - 6.8 16.9 fl. oz.
1 x All-Around Skin Relief Ointment 100ml – 3.4 fl. oz.
Organic and vegan certified by org
≥98% Ingredients from natural origin
Spray All Day is filled in 100% compostable Veganbottle®
Leave-In Cream and Skin Ointment are filled in 100% reusable and recyclable aluminium jars
Tearless, hypoallergenic ingredients
Allergen-Free fragrance
Easily absorbed into the skin for long-lasting results without buildup or greasiness
Promotes overall coat and skin health
Increases coat thickness
Beneficial for all coats and skin types
WHAT´S NOT IN IT
GMOs and cancerogenic substances

Ethanolamine Compounds (MEA, DEA, TEA, and others)
Mineral Oils

Parabens

Petrochemicals

Phenoxyethanol

Phthalates

Polyethylene Glycol (PEG)

Propylene Glycol (PPG)

Silicones

Sulphates

Synthetic Dyes
Triclosan
Why a "NO Nasties pledge"?
We firmly believe that investing in quality and certified organic products for your pet means investing in their health to ensure prosperity and well-being.
Specifically, we're proud to say that all Doglyness products are free from any of the ingredients listed here, which are instead common in most commercial pet shampoos and conditioners, and that can turn out to be harmful in the long run.
We are proud to be the first pet brand in the industry that uses patented Veganbottle® made with 100% raw compostable materials, including bottle caps and labels. Our bottle does not contain harsh oil ingredients and plastics, and it's made through a complex process of extracting sugar cane and plant combinations. In addition, we combat plastic pollution by banning any plastic or non-sustainable materials used in production, packaging, shipping, and storage.
Learn more about our Plastic-Free pledge here.
The Doglyness Way
At Doglyness, we take our responsibility seriously, striving to provide you with the most sustainable and transparent options for all your pet grooming needs. Recognizing the significant environmental impact of the pet grooming industry, we were driven to make a change. Extensive research and dedication have enabled us to discover effective methods of delivering top-quality products without compromising the well-being of our planet.
Great set
Total set for great haircare by damaged hair
Love this trio
What to say other than I absolutely love every single Doglyness product! It's made with so much attention to detail and the results are just spectacular. Other natural products don't come even close to yours!!
My personal favourite is level-up cream as it keeps the hair super nice and nourished from bathing to bathing, and I noticed that it tangles less as well.
The spray is super light; I hate to use heavy sprays that leave a sticky residue so this is my must-have daily product for all dogs. It's so lightweight yet so practical and tangles melt after application.
Skin relief ointment is something I use under my eyes as my dog's skin has never been so healthy from Doglyness, so we don't need it, but I love it for my own skin and wrinkles around the eyes! 😃
Thank you and never lower your standards please!