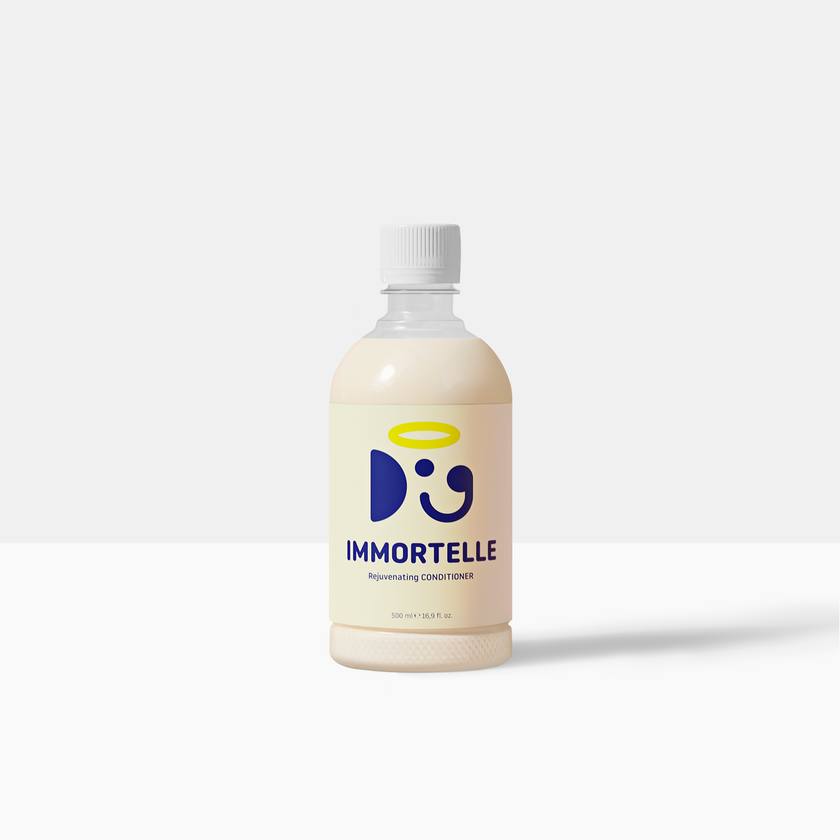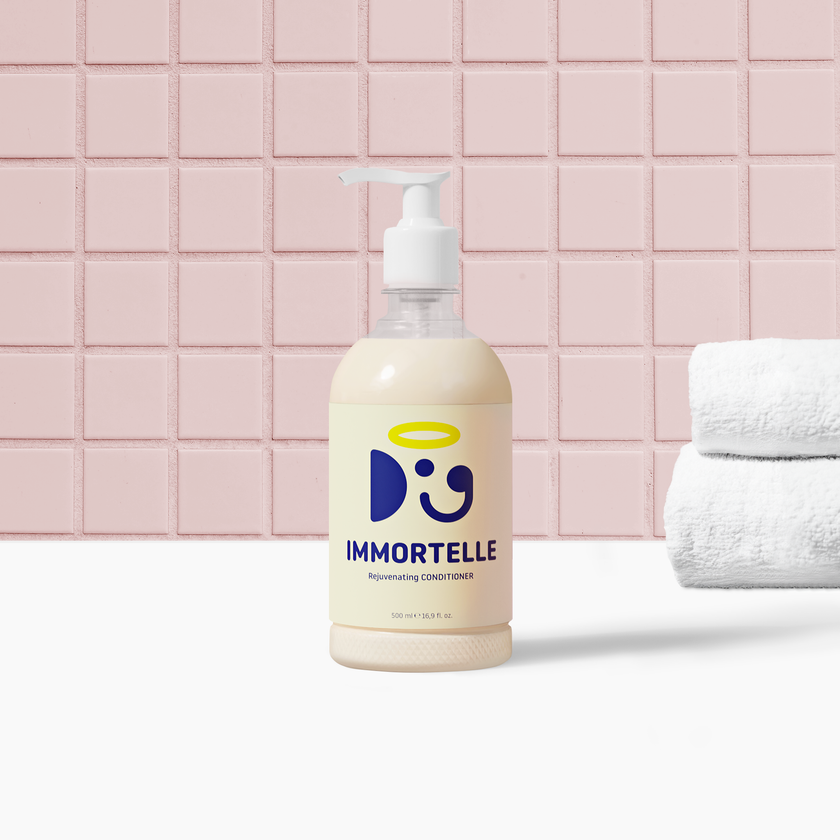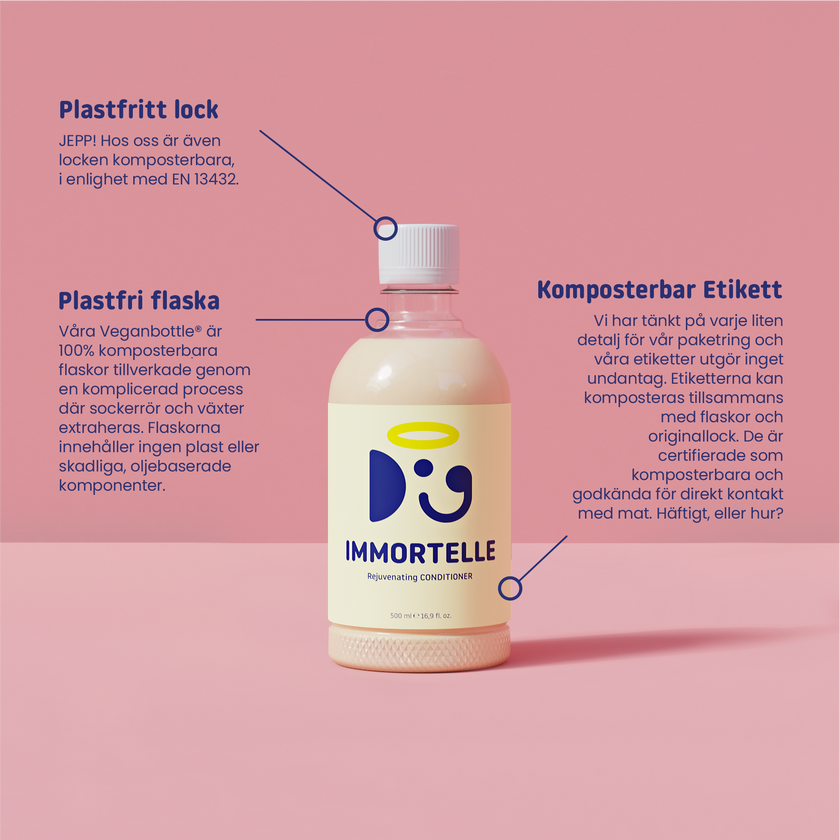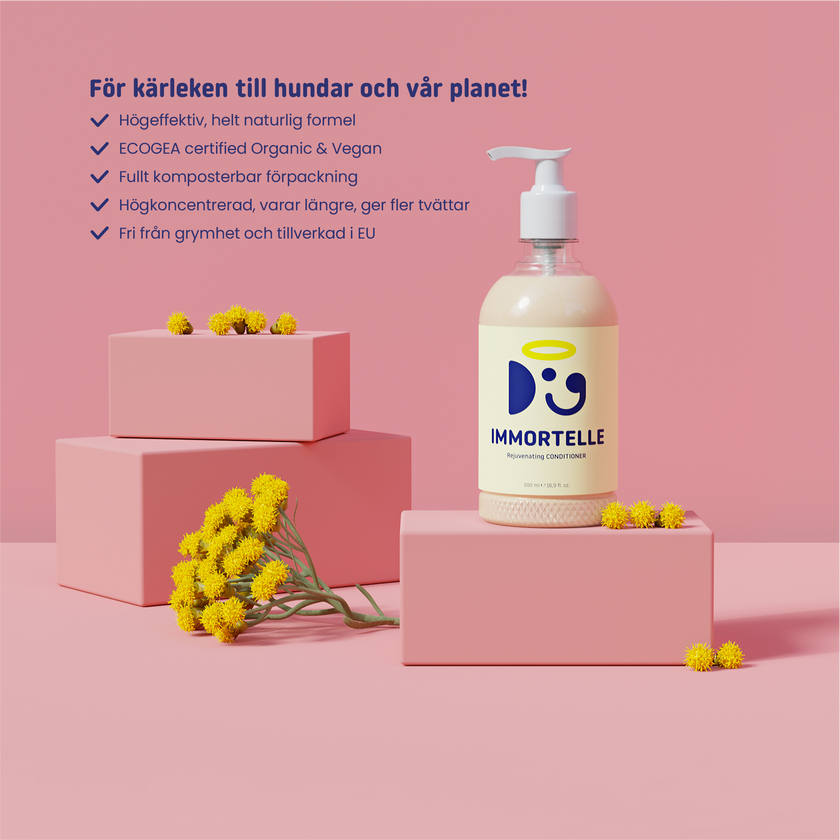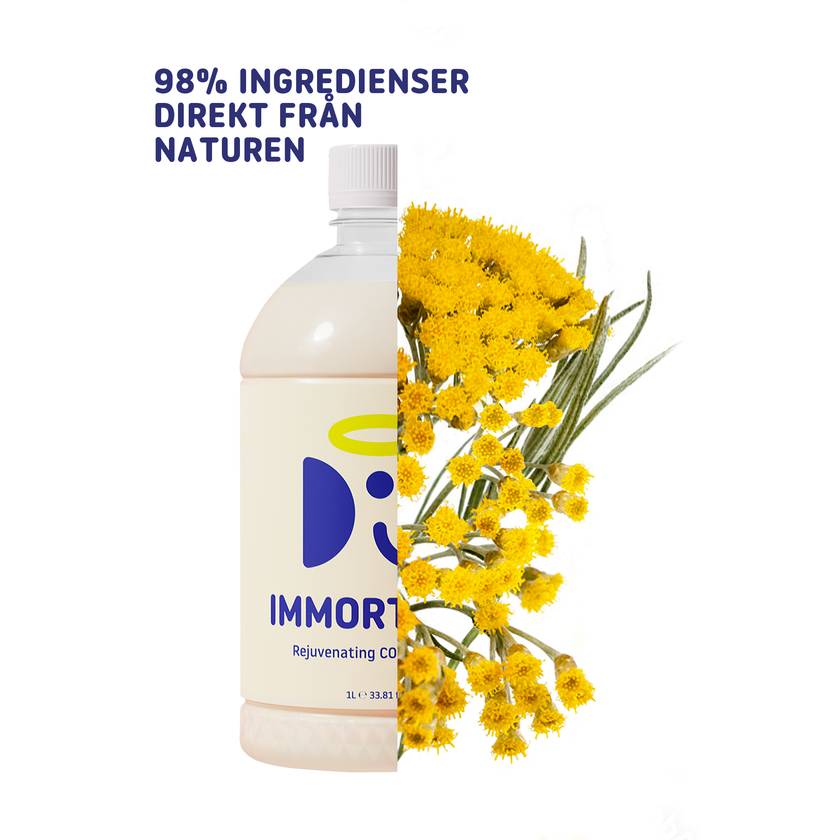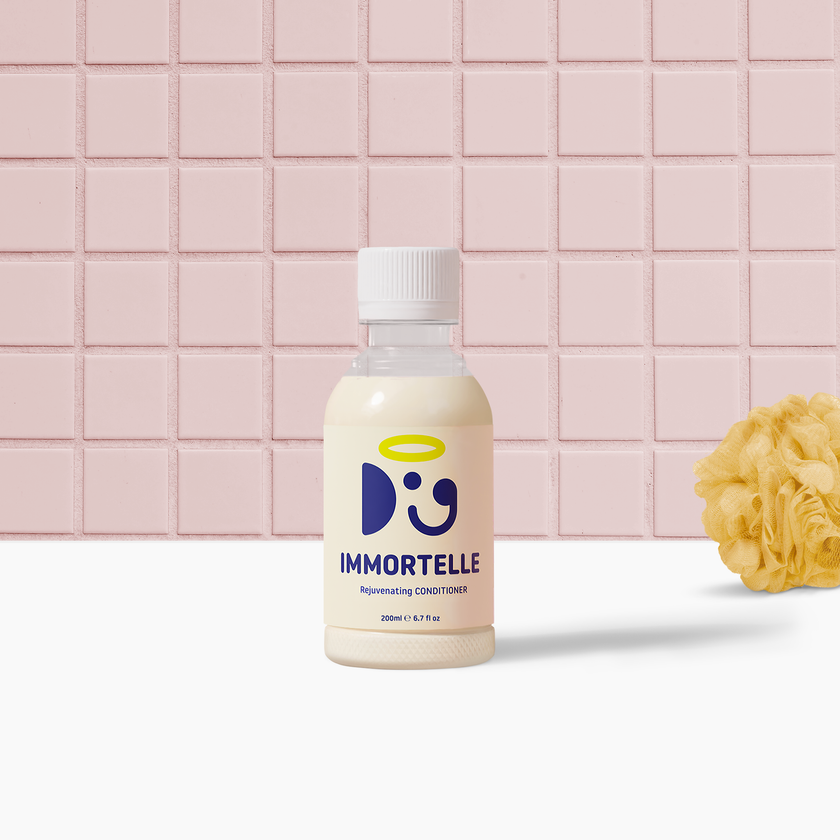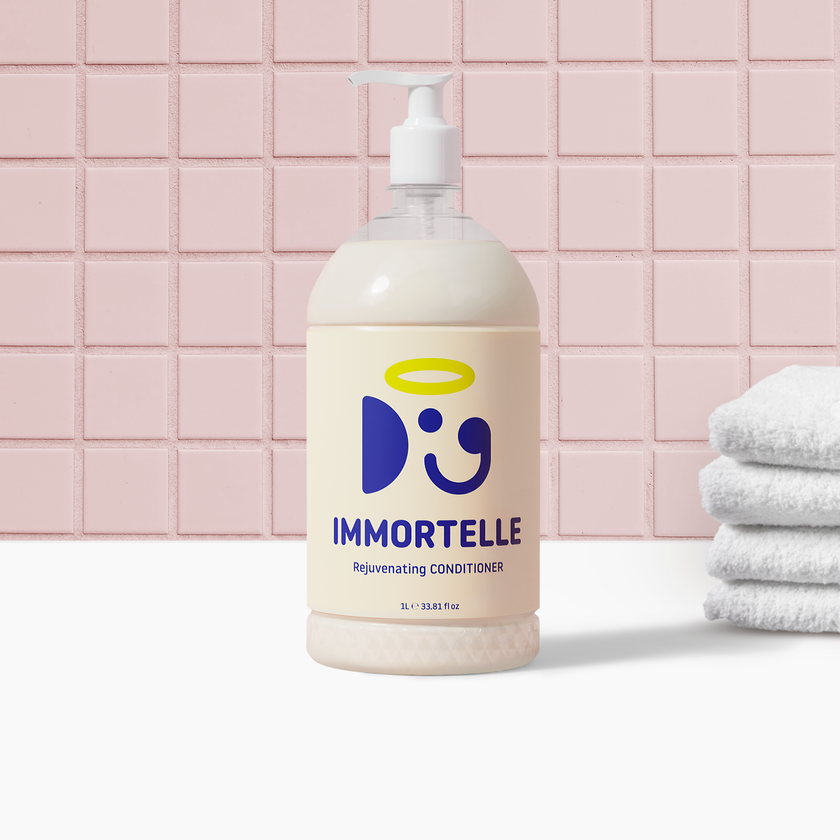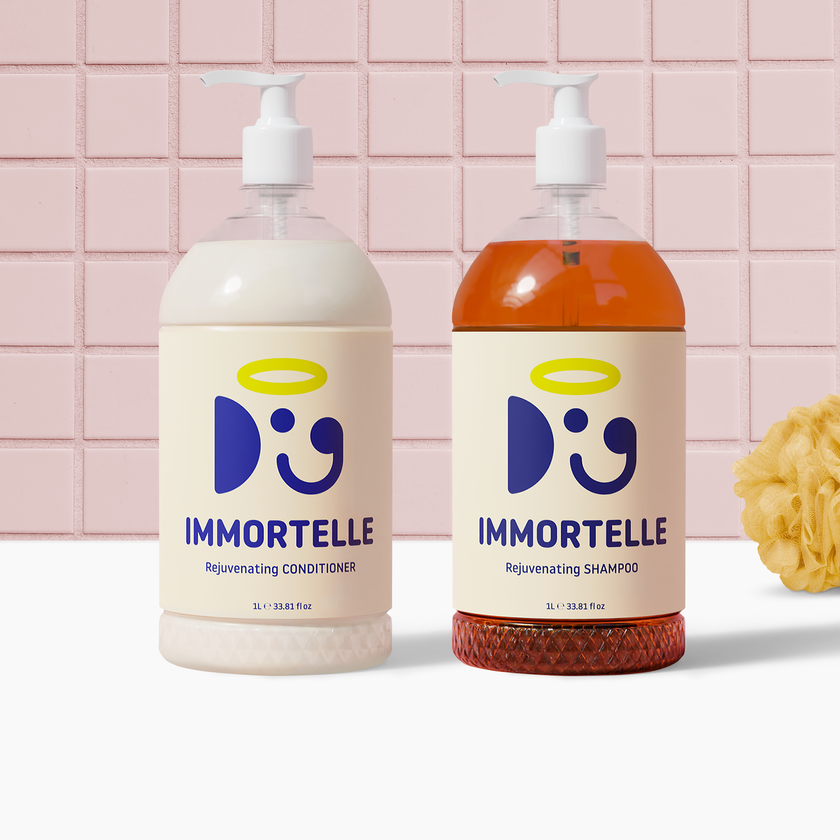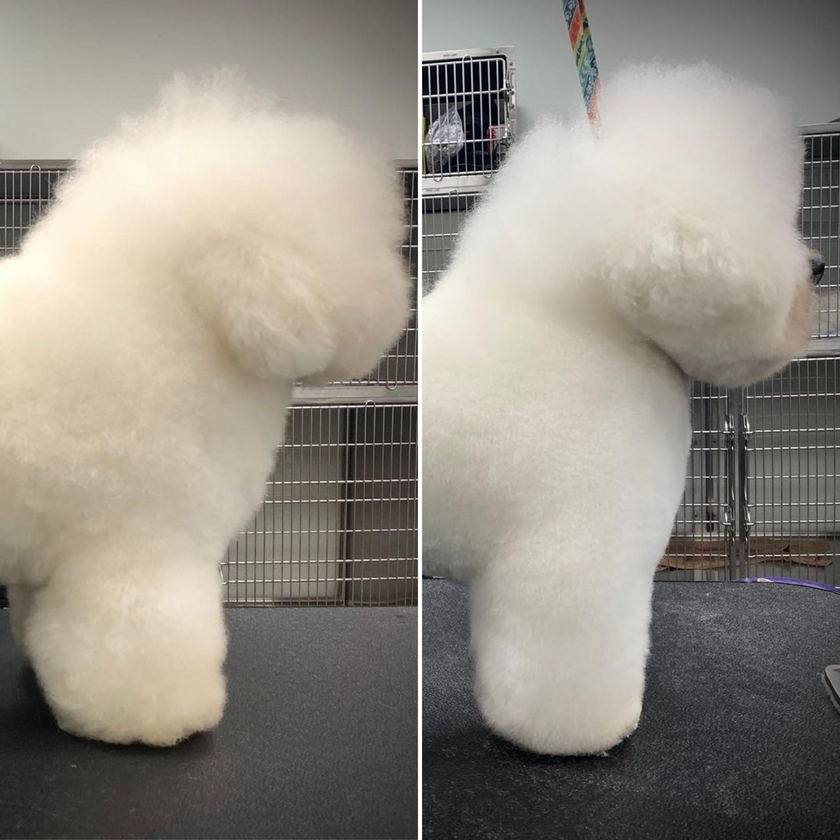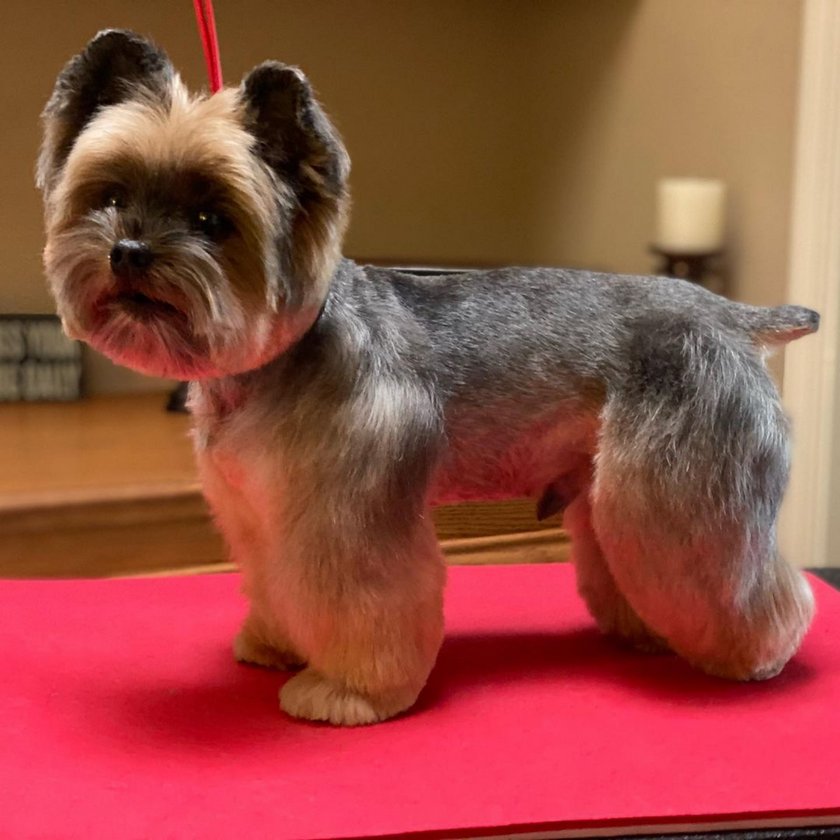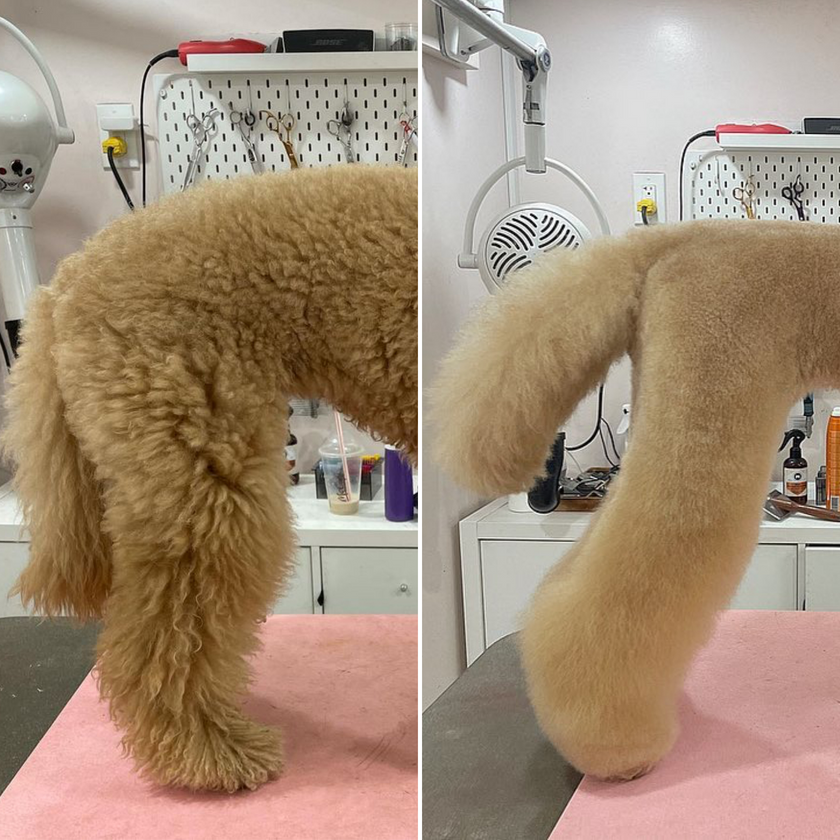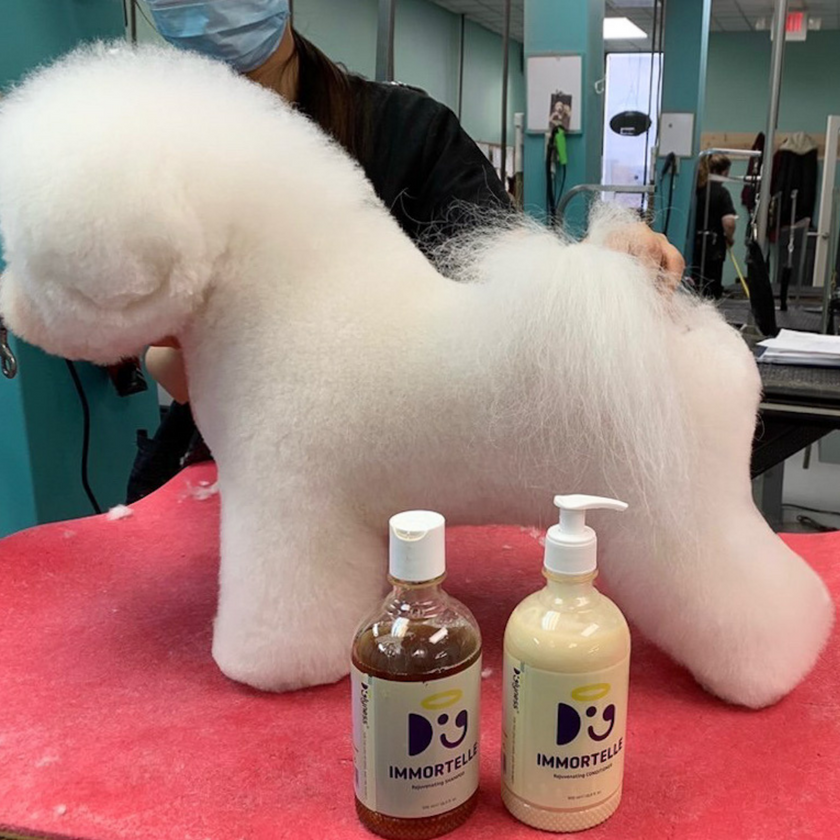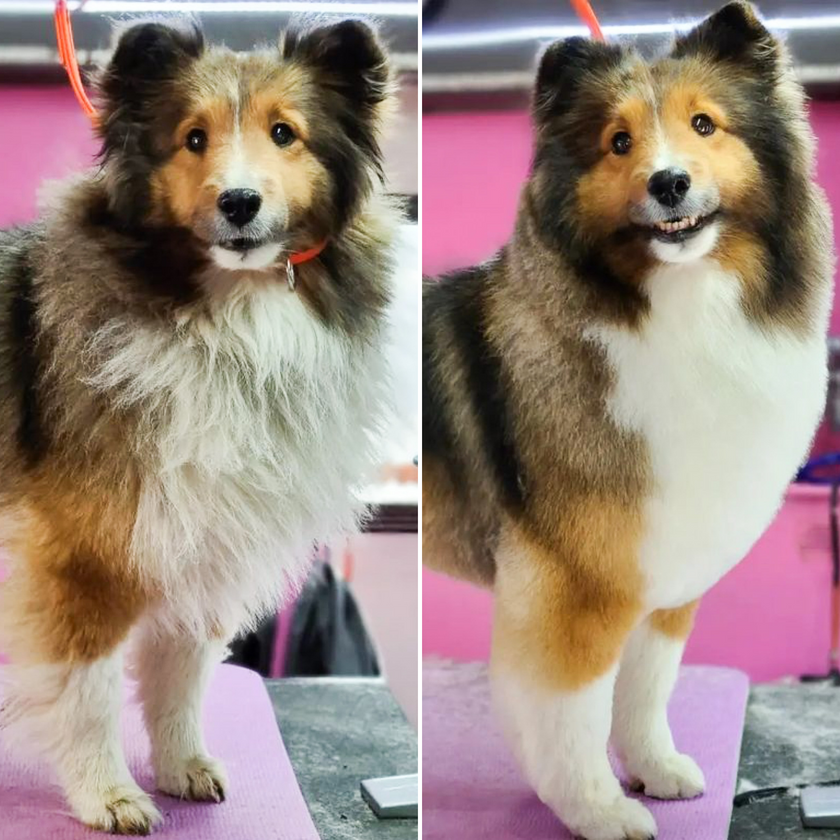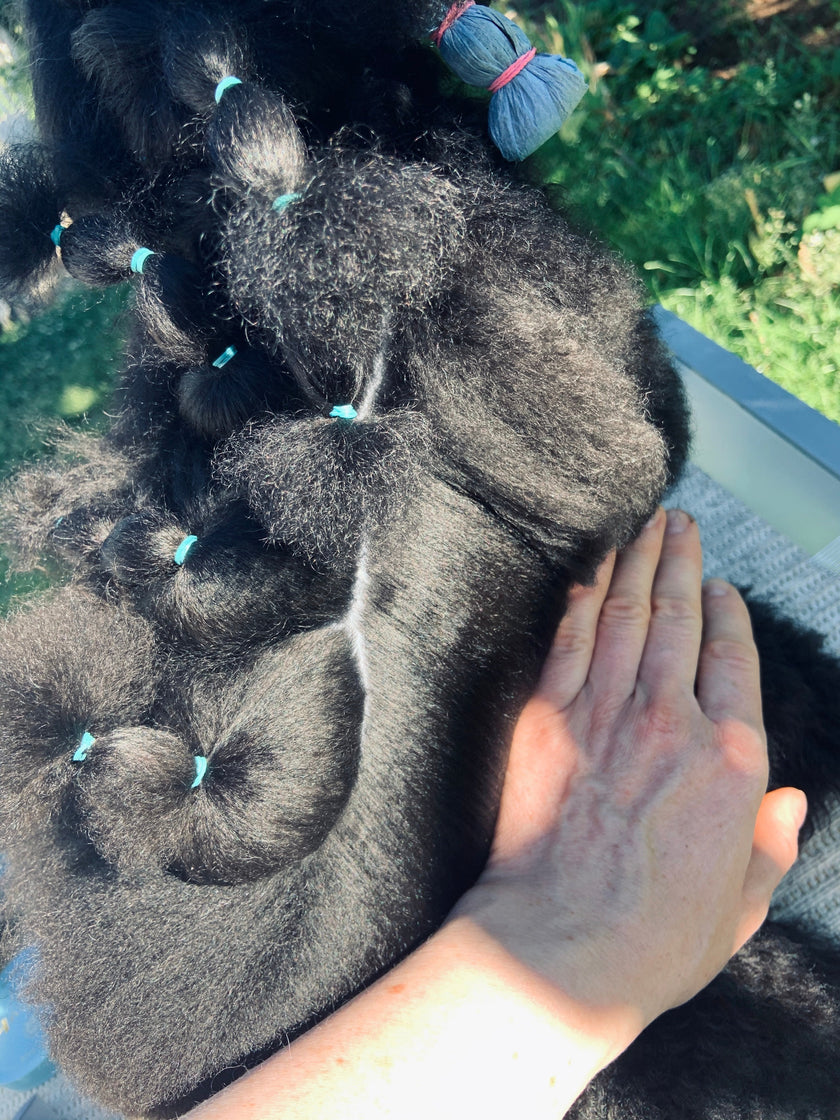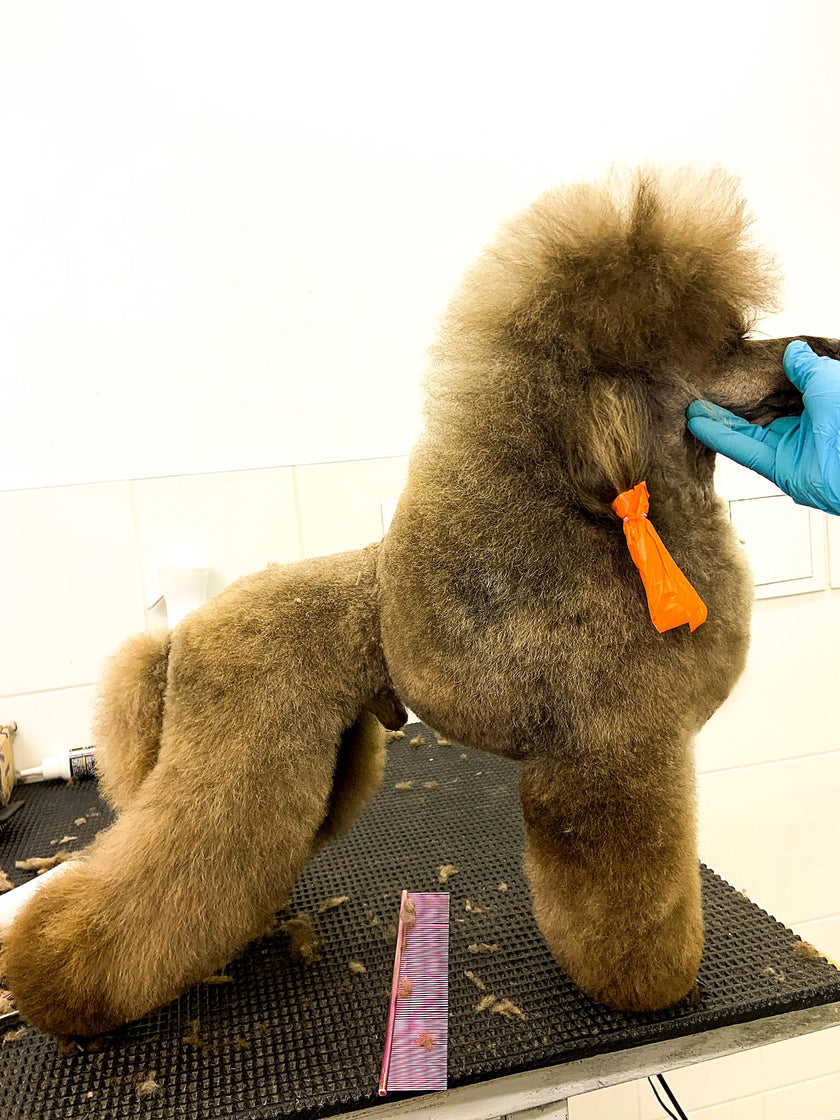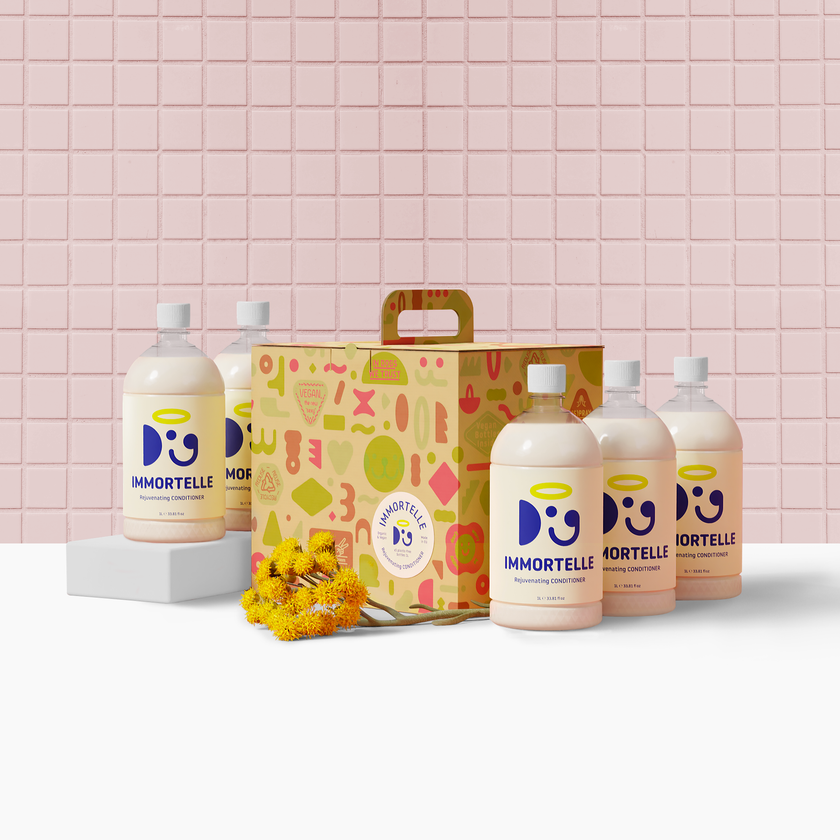 IMMORTELLE REJUVENATING CONDITIONER | Our Iconic First Conditioner
To effectively use the Immortelle Rejuvenating Conditioner, follow these simple directions:
Prepare the dog conditioner by diluting it with water in the recommended ratio. Use a dilution ratio of up to 1:30 for a healthy coat, 1:20 for coats that require extra care, and apply undiluted only on very damaged coats.
Mix the conditioner and water thoroughly to create a rinse solution.
Apply the conditioner liberally onto a wet coat, ensuring complete coverage.
For optimal results, gently work the conditioner into the hair for 3-5 minutes, allowing the botanicals to deeply hydrate and nourish the skin and coat.
Rinse the coat completely, ensuring all the conditioner is removed.
By following these instructions, you can maximize the benefits of the conditioner and achieve optimal results for your dog's coat.
INCI
Aqua*, Aloe Barbadensis Leaf Juice*/**, Cetearyl Alcohol*, Distearoylethyl Dimonium Chloride*, Helichrysum Italicum Flower Extract*/**, Polyglyceryl-10 Laurate*, Hydroxypropyltrimonium Inulin*, Glycerin*, Crambe Abyssinica Seed Oil*, Cyamopsis Tetragonoloba (Guar) Gum*, Benzyl Alcohol, Hydrogenated Ethylhexyl Olivate*, Hydrogenated Olive Oil Unsaponifiables*, Cetearyl Glucoside*, Sorbitan Olivate *, PCA Glyceryl Oleate *, Panthenol, Fragrance (Allergen Free Composition), Sodium Levulinate *, Hydrolyzed Vegetable Protein*, Guar Hydroxypropyltrimonium Chloride*, Sodium Chloride*, Citric Acid*, Dehydroacetic Acid, Potassium Sorbate, Phytosterols*, Oleyl Alcohol*, Rosmarinus Officinalis (Rosemary) Leaf Extract*/**, Helianthus Annuus Seed Oil*/**, Sodium Benzoate
* Ingredients from natural origin (98,0 %)
** Ingredients from organic agricultural source (22,0%)
Certified organic and vegan by Ecogea.org
Indulge in the remarkable benefits of our carefully chosen key active ingredients, each infused with love and selected for their extraordinary qualities:
IMMORTELLE FLOWER: Known for its anti-ageing properties, Immortelle helps rejuvenate and revitalize the hair, promoting overall hair health.
ALOE VERA: This hydrating ingredient moisturizes and soothes the hair and scalp, leaving the hair feeling soft and refreshed.
AGAVE INULIN: Fights frizz and helps keep the hair smooth and manageable, adding shine and enhancing the overall appearance.
CRAMBE ABYSSINICA SEED OIL: Boosts elasticity and improves the resilience of the hair, leaving it stronger and more resistant to damage.
PHYTO PROTEIN: Strengthens the hair shaft, helping to reduce breakage and promote healthy hair growth.
PHYTOSTEROLS: Stimulate hair growth and contribute to overall hair health and vitality.
HYDROGENATED OLIVE OIL: Provides healing properties to the hair and scalp, promoting a healthier and nourished appearance.
SORBITAN OLIVATE (Plant-derived): Helps retain water in the hair, improving moisture retention and hydration.
PANTHENOL (Vitamin B5): Promotes cell regeneration, supporting the overall health and vitality of the hair.
GLYCERINE (Plant-derived): Moisturizes the hair, helping retain moisture and preventing dryness and brittleness.
LANOLIN (Plant-derived): Provides a protective barrier to the hair, helping to seal in moisture and protect against environmental damage.
These key active ingredients work in harmony to deliver a rejuvenating and nourishing experience for the hair, leaving it visibly healthier, more manageable, and full of vitality.
Organic and vegan certified by Ecogea.org
≥ 98% Ingredients from natural origin
Filled in 100% compostable Veganbottle®
Tearless, hypoallergenic ingredients
Allergen-Free fragrance
Promotes overall coat and skin health
Increases coat thickness
Beneficial for all coats and skin types
Highly concentrated – Follow the user´s instructions for the best results on the original product´s listing
WHAT´S NOT IN IT
GMOs and cancerogenic substances

Ethanolamine Compounds (MEA, DEA, TEA, and others)
Mineral Oils

Parabens

Petrochemicals

Phenoxyethanol

Phthalates

Polyethylene Glycol (PEG)

Propylene Glycol (PPG)

Silicones

Sulphates

Synthetic Dyes
Triclosan
Why a "NO Nasties pledge"?
We firmly believe that investing in quality and certified organic products for your pet means investing in their health to ensure prosperity and well-being.
Specifically, we're proud to say that all Doglyness products are free from any of the ingredients listed here, which are instead common in most commercial pet shampoos and conditioners, and that can turn out to be harmful in the long run.
JOIN OUR PLASTIC-FREE MISSION: RESPONSIBLE PACKAGING
We are proud to be the first pet brand in the industry that uses the patented Veganbottle®, a revolutionary packaging made from 100% raw compostable materials, including bottle caps and labels. Our commitment to sustainability extends beyond the bottle itself, as we actively combat plastic pollution by banning non-sustainable materials throughout our entire production, packaging, shipping, and storage processes.
Learn more about our Plastic-Free pledge and discover how we're making a positive impact on the environment. When you place an order, plastic pumps and closures will be provided separately at no extra cost with your first purchase. We encourage you to save and reuse these pumps and closures for future orders, as we strive together towards a plastic-free future and a greener planet.
The Doglyness Way
At Doglyness, we take our responsibility seriously, striving to provide you with the most sustainable and transparent options for all your pet grooming needs. Recognizing the significant environmental impact of the pet grooming industry, we were driven to make a change. Extensive research and dedication have enabled us to discover effective methods of delivering top-quality products without compromising the well-being of our planet.
.
I'm very pleased with both shampoo & conditioner for my white/blue parti poodle who has a very curly coat. It has stayed straighter for more days than usual & has a pleasant smell too.
Poodle looks and feels great!
Just tried Immortal shampoo and conditioner on one of my standard poodles. No matting, blowout and brushing was painless for all! Love it and can't wait to use on the rest of the gang!
Where have you been all my life?
Wow! This product is so wonderful! Every client has looked and felt fantastic. I'm about to order more because i I don't think I can live without this now.
Simply Wonderful
Perhaps the best conditioner I have tried on my medium poodle, easy to use and apply, visible results from the first moment, from the first application his hair is in exceptional condition, shiny, flexible, with a perfect color despite living In an area where the sun usually accompanies us on walks, and it grows at an amazing speed, I have never managed to make its ears look so good.
Knots are a thing of the past even if we've been on the road and haven't followed their regular maintenance routine, and also the drying time is minimal.
It does not add weight and the texture of his hair is perfect when cutting even after using the conditioner.
I love Doglyness, for its results as well as for what it stands for.
Perfect product for poodles
This is the best conditioner till now for all the difficult coats.
I totally recommend it.