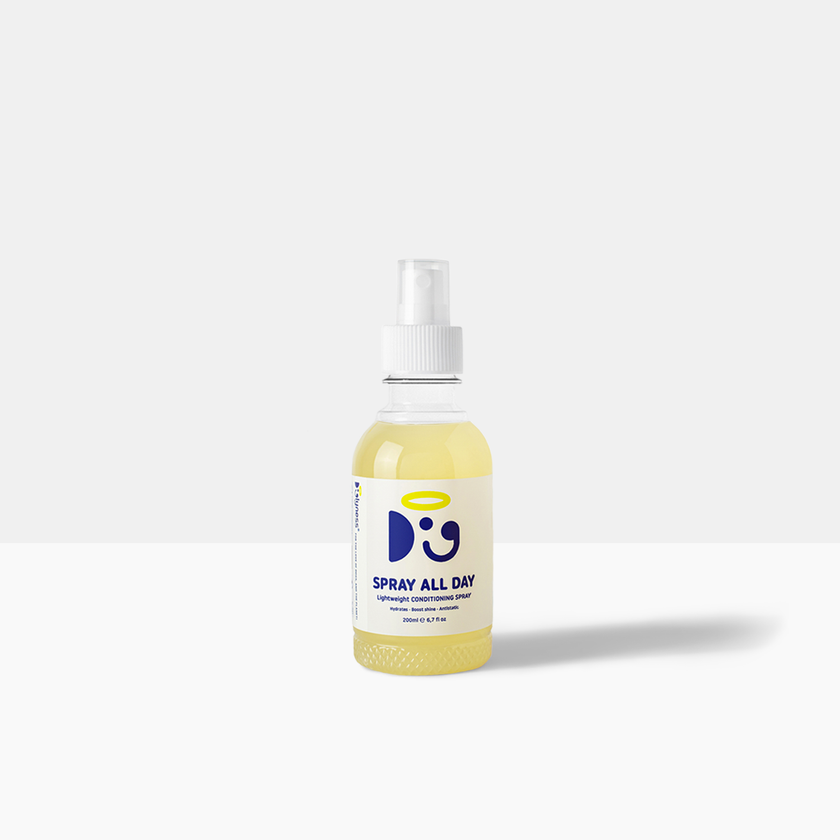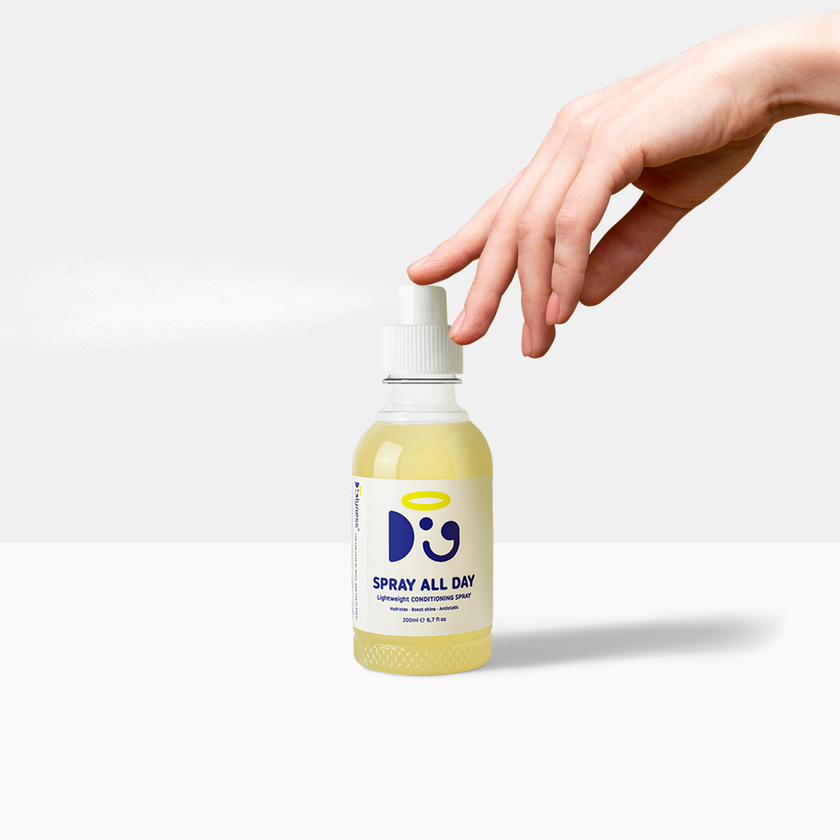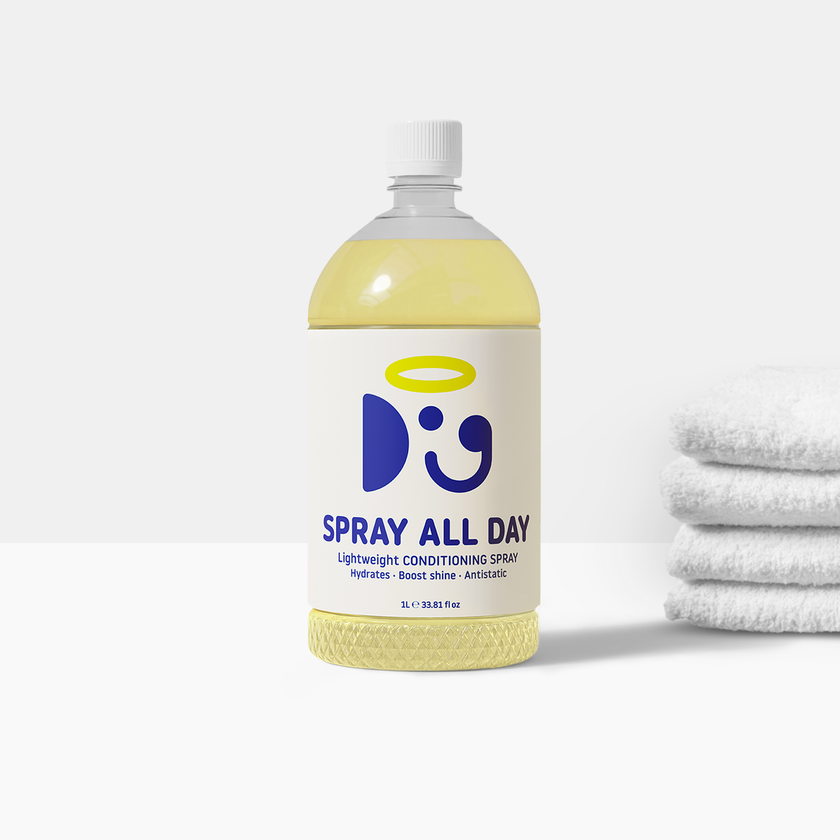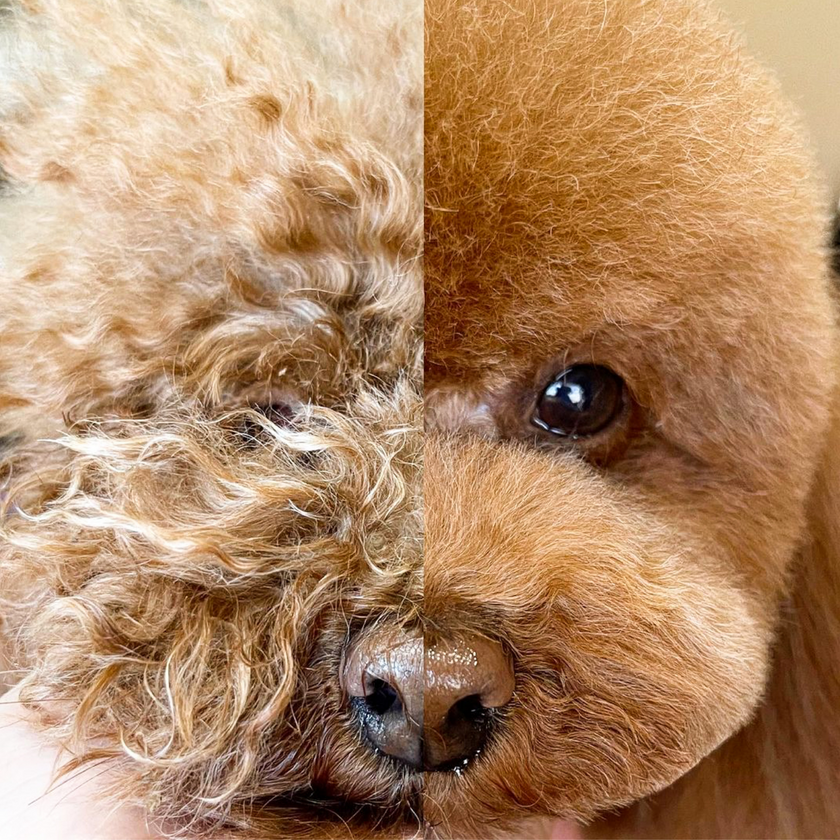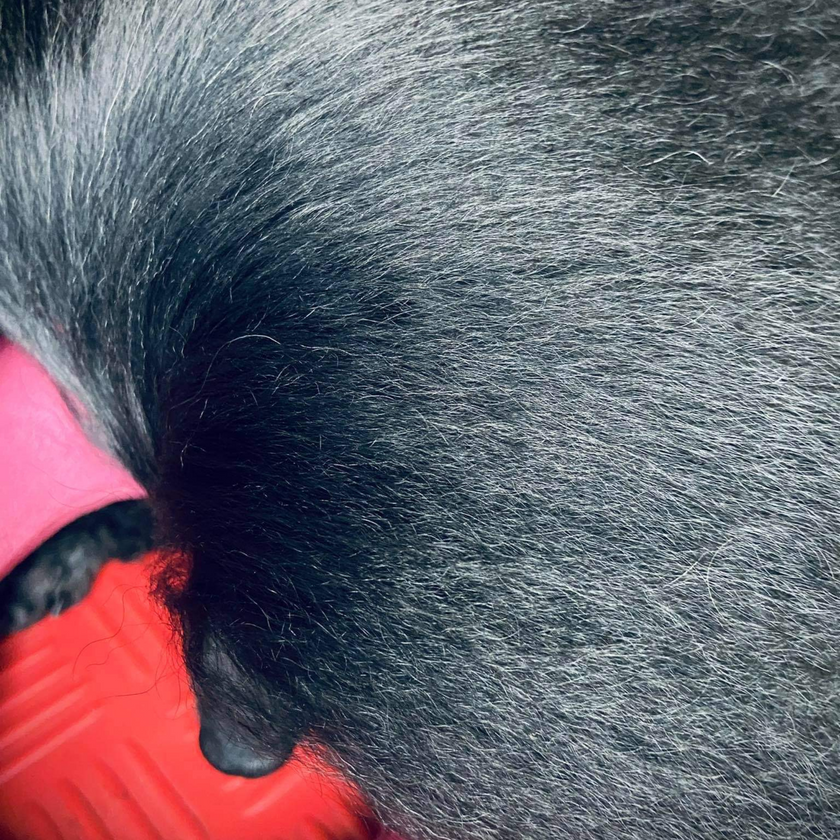 SPRAY ALL DAY | Lightweight Dog Conditioning Spray
To make the most of Doglyness SPRAY ALL DAY, follow these simple instructions:
Shake well before use to ensure proper mixing of the ingredients.
For brushing or detangling, spray the product liberally onto the hair you want to work on. Pay extra attention to tangled areas and use your fingertips to work the spray well into those areas.
Gently brush through the coat, starting from the tip and working your way down to the skin. The spray's weightless moisture and hydrating properties will effortlessly help the brush glide through. Continue brushing until the brush runs freely through the coat.
Aim the ultra-fine mist anywhere on your dog's coat that requires a quick refresh for instant bursts of weightless hydration and shine.
Additional usage tips:
During the drying phase, use the spray to condition long hair or tackle persistent knots. Its hydrating properties will help keep the coat healthy and manageable.
Professional groomers can rely on this spray as an effective and natural solution to ease the scissoring process. It will assist in achieving precise cuts while maintaining the coat's integrity.
When preparing for dog shows, use the spray as pre-ring support to define the hair and enhance its lustre. This will help your dog stand out with a beautiful, glossy coat.
By following these instructions and exploring the various ways to use Doglyness SPRAY ALL DAY, you'll unlock the full potential of this exceptional product, providing your dog with top-quality care and ensuring a stunning, well-groomed appearance.
INCI
Aqua*, Aloe Barbadensis Leaf Juice*/**, Glycerin*/**, Hydroxypropyltrimonium Lemon Protein*, Benzyl Alcohol, Sodium Levulinate*, Polyglyceryl-10 Caprylate/Caprate*, Panthenol, Sodium Chloride*, Dehydroacetic Acid, Potassium Sorbate, Fragrance (Allergen- Free Composition), Sodium Phytate*, Citric Acid*
* Ingredients From Natural Origin (98,5%)
** Ingredients From Organic Agricultural Sources (12,0%)
Certified organic and vegan by Ecogea.org
Indulge in the remarkable benefits of our carefully chosen key active ingredients, each infused with love and selected for their extraordinary qualities:
ALOE VERA: Known for its soothing and healing properties, Aloe Vera helps calm the skin and hydrate the coat. It provides relief to any discomfort and promotes healthy, moisturized skin and hair.
LEMON PROTEIN: This ingredient actively combats static, making the coat look smoother. It also enhances shine, leaving the coat lustrous and vibrant. Additionally, Lemon Protein adds texture, contributing to a well-groomed and visually appealing coat.
GLYCERIN (Plant-derived): Derived from plants, Glycerin acts as a moisturizer, replenishing the coat's moisture levels. It restores hydration, leaving the coat soft, supple, and well-nourished.
PANTHENOL (Vitamin B5): Panthenol, also known as Vitamin B5, works to improve the coat's elasticity and promotes hair regeneration. It strengthens the hair strands, reducing breakage and ensuring a healthier and more resilient coat.
By harnessing the power of these active ingredients, Doglyness SPRAY ALL DAY offers a professional-level formulation that provides comprehensive care, including soothing, healing, moisturizing, fighting static, boosting shine, adding texture, and improving the overall health and appearance of your dog's coat.
Organic and vegan certified by Ecogea.org
98,5% ingredients from natural origin
Filled in 100% compostable Veganbottle®
Subtle allergen-free fragrance
pH balanced
The lightweight formula dries instantly and leaves a soft, glossy finish full of texture
Ideal to use as a detangling or scissoring spray
Instant hydration boost between the washes
Great for all dogs and coat types
WHAT´S NOT IN IT
GMOs and cancerogenic substances
Ethanolamine Compounds (MEA, DEA, TEA, and others)
Mineral Oils
Parabens
Petrochemicals
Phenoxyethanol
Phthalates
Polyethylene Glycol (PEG)
Propylene Glycol (PPG)
Silicones
Sulphates
Synthetic Dyes
Triclosan
Why a "NO Nasties pledge"?
We firmly believe that investing in quality and certified organic products for your pet means investing in their health to ensure prosperity and well-being.
Specifically, we're proud to say that all Doglyness products are free from any of the ingredients listed here, which are instead common in most commercial pet shampoos and conditioners, and that can turn out to be harmful in the long run.
JOIN OUR PLASTIC-FREE MISSION: RESPONSIBLE PACKAGING
We are proud to be the first pet brand in the industry that uses the patented Veganbottle®, a revolutionary packaging made from 100% raw compostable materials, including bottle caps and labels. Our commitment to sustainability extends beyond the bottle itself, as we actively combat plastic pollution by banning non-sustainable materials throughout our entire production, packaging, shipping, and storage processes.
Learn more about our Plastic-Free pledge and discover how we impact the environment positively. When you place an order, plastic pumps and closures will be provided separately at no extra cost with your first purchase. We encourage you to save and reuse these pumps and closures for future orders, as we strive together towards a plastic-free future and a greener planet.
The Doglyness Way
At Doglyness, we take our responsibility seriously, striving to provide you with the most sustainable and transparent options for all your pet grooming needs. Recognizing the significant environmental impact of the pet grooming industry, we were driven to make a change. Extensive research and dedication have enabled us to discover effective methods of delivering top-quality products without compromising the well-being of our planet.
Älskar den!
Perfekt både på hundarna och dottern😉