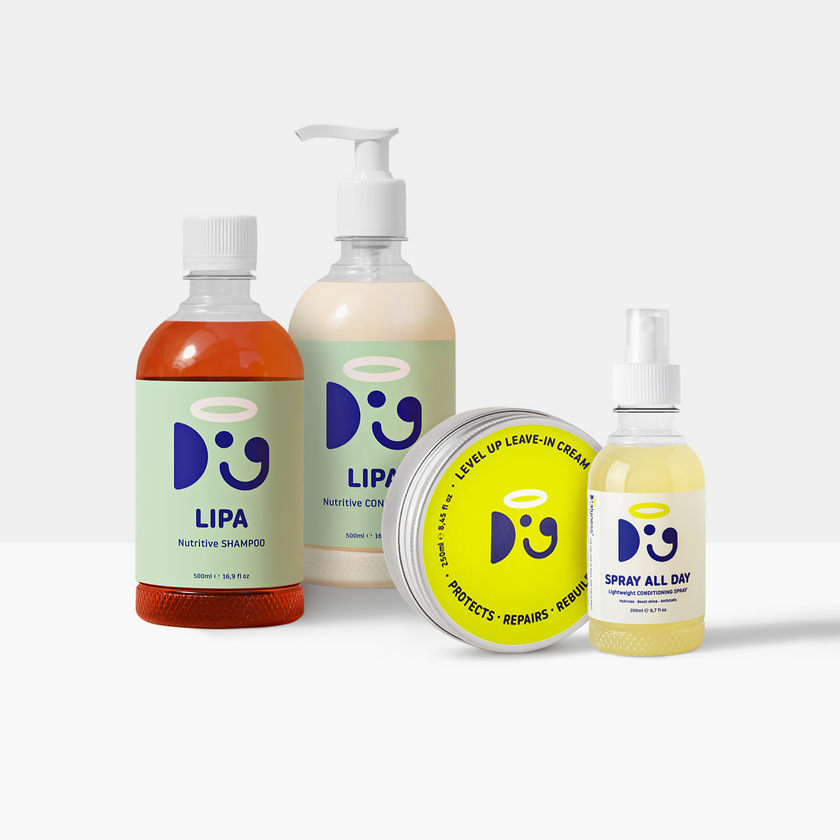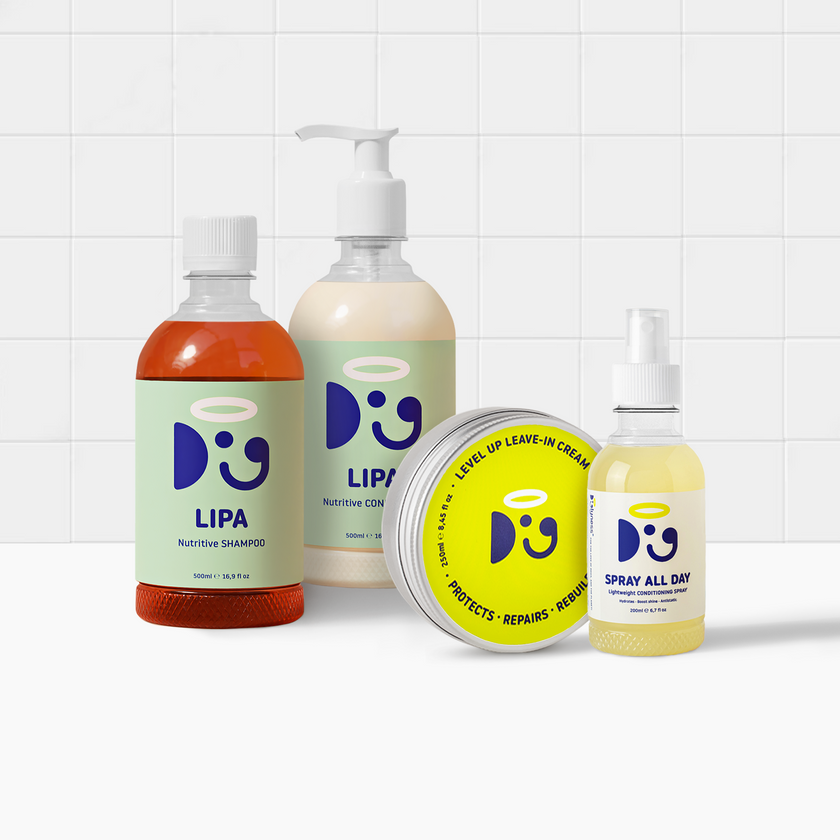 SOS COAT RESCUE SET | Nourish, Restore, and Rebuild Your Coat
Enhance the quality and vitality of your dog's coat with this comprehensive bundle, designed to deliver deep repair and optimal protection.
Lipa Nutritive Line shampoo and conditioner set: Our Lipa Nutritive Line shampoo and conditioner set is meticulously formulated to intensely nourish and promote overall coat and skin health. This dynamic duo penetrates deeply, infusing vital nutrients from root to tip, resulting in visibly nourished hair that retains its structure and volume. Rest assured, these products are certified organic, vegan, and comprise over 99% natural ingredients.
Level Up Leave-in Cream: Take the well-being of your dog's coat to the next level by incorporating our Level Up Leave-in Cream. This remarkable product not only imparts a smooth and hydrated texture to the hair but also works its magic within the follicles, delivering essential nutrients courtesy of its botanical ingredients. Experience enhanced protection and revitalisation like never before.
Spray All Day Lightweight Conditioning Spray: For weightless moisture, shine, and texture enhancement, our hero is Spray All Day Lightweight Conditioning Spray. Specially formulated to fortify hair follicles, this spray acts as a guardian, shielding each strand from breakage during the scissoring and brushing phase. Hydrate and safeguard your dog's coat with this indispensable addition to your grooming routine.
WHAT´S IN IT
1 x Lipa Nutritive Shampoo 500ml - 16.9 fl. oz.
1 x Lipa Nutritive Conditioner 500ml – 16.9 fl. oz.
1 x Level Up Leave-In Cream 250ml – 8.45 16.9 fl. oz.
1 x Spray All Day – Lightweight conditioning spray 200ml - 6.8 16.9 fl. oz.
Separate closures: 1 x Plastic lotion pump / 1 x Disc-top (Please save and reuse them as long as they serve you. Products are originally packed in plastic-free packaging – LET´S CREATE LESS WASTE TOGETHER!)
Organic and vegan certified by Ecogea.org
≥98% Ingredients from natural origin
Filled in 100% compostable Veganbottle®
Tearless, hypoallergenic ingredients
Allergen-Free fragrance
Promotes overall coat and skin health
Increases coat thickness
Beneficial for all coats and skin types
Highly concentrated – Follow the user´s instructions for the best results on the product´s original listing
WHAT´S NOT IN IT
GMOs and cancerogenic substances

Ethanolamine Compounds (MEA, DEA, TEA, and others)
Mineral Oils

Parabens

Petrochemicals

Phenoxyethanol

Phthalates

Polyethylene Glycol (PEG)

Propylene Glycol (PPG)

Silicones

Sulphates

Synthetic Dyes
Triclosan
Why a "NO Nasties pledge"?
We firmly believe that investing in quality and certified organic products for your pet means investing in their health to ensure prosperity and well-being.
Specifically, we're proud to say that all Doglyness products are free from any of the ingredients listed here, which are instead common in most commercial pet shampoos and conditioners, and that can turn out to be harmful in the long run.
We are proud to be the first pet brand in the industry that uses patented Veganbottle® made with 100% raw compostable materials, including bottle caps and labels. Our bottle does not contain harsh oil ingredients and plastics, and it's made through a complex process of extracting sugar cane and plant combinations. In addition, we combat plastic pollution by banning any plastic or non-sustainable materials used in production, packaging, shipping, and storage.
Learn more about our Plastic-Free pledge here.
The Doglyness Way
At Doglyness, we take our responsibility seriously, striving to provide you with the most sustainable and transparent options for all your pet grooming needs. Recognizing the significant environmental impact of the pet grooming industry, we were driven to make a change. Extensive research and dedication have enabled us to discover effective methods of delivering top-quality products without compromising the well-being of our planet.
Have only tried on one dog yet. She looks still a bit "dusty"