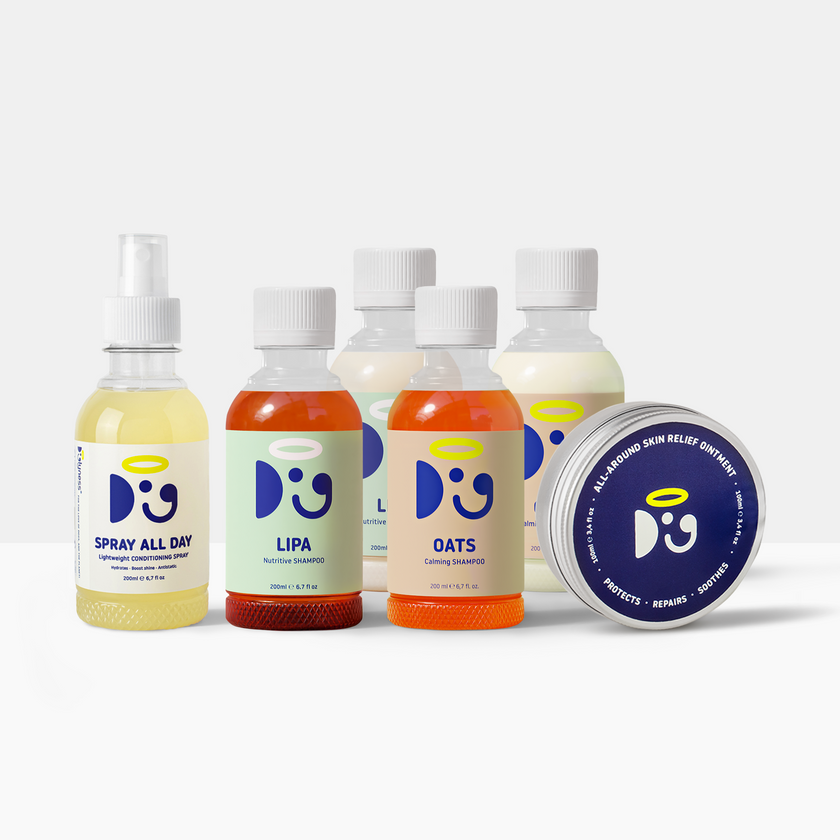 THE MIGHTY MINI SET | Essential Doglyness Grooming On-the-Go
Experience the power of our comprehensive MINI SET, designed to fulfil all your dog's needs with remarkable results:
Lipa Nutritive Line shampoo and conditioner: Immerse your dog's severely dry and damaged coat in a lavish pampering experience, as our intense nourishment formula works its magic. From root to tip, this exceptional line delivers deep nutrition, replenishing and revitalizing your dog's precious coat and skin. Experience the remarkable transformation as health and vitality are restored, leaving your furry friend with a lustrous and radiant appearance.
Oats Calming Line shampoo and conditioner: Meticulously formulated, this remarkable duo is designed to provide a gentle cleanse, even for the most sensitive skin. Discover a line that goes beyond calming and balancing, as it nourishes and fortifies the coat, enhancing volume and structure. Witness the transformation as your dog's skin becomes visibly healthier, while their coat radiates an exquisite shine and embodies a luxurious fullness.
All-Around Skin Relief Ointment: Embrace the healing power of our All-Around Skin Relief Ointment. Crafted with the utmost care, this 100% natural, certified organic ointment acts as a true saviour for healing skin wounds and irritations. Watch as it supports skin regeneration, providing your beloved companion with unparalleled relief and comfort. Let your furry friend experience the soothing touch of this exceptional ointment, bringing their skin back to life and ensuring their well-being.
Spray All Day Lightweight Conditioning Spray: Treat your dog's coat to a world of indulgence with our Spray All Day Lightweight Conditioning Spray. Step into a realm of enhanced shine and effortless brushing as our revolutionary formula works wonders. This lightweight spray delivers weightless moisture, infusing each strand with vitality. Embrace the essential protective benefits it offers, safeguarding your dog's coat against daily challenges. Watch in awe as their coat gleams with a radiant and enviable state of health.
Discover the ultimate grooming solution for your beloved companion, crafted with love and care to bring out their natural beauty. Elevate their grooming routine to new heights and experience the joy of a happier, healthier, and even more stunning furry friend.
WHAT´S IN IT
1 x Lipa Nutritive Shampoo 200ml – 6.7 fl. oz.
1 x Lipa Nutritive Conditioner 500ml – 6.7 fl. oz.
1 x Oats Calming Shampoo 200ml – 6.7 fl. oz.
1 x Oats Calming Conditioner 200ml – 6.7 fl. oz.
1 x All-Around Skin Relief Ointment 100ml – 3.4 fl. oz.
1 x Spray All Day Lightweight Conditioning Spray 200ml – 6.7 fl. oz.
Organic and vegan certified by Ecogea.org
≤ 98% Ingredients from natural origin
Filled in 100% compostable Veganbottle® (shampoos, conditioners & spray)
Tearless, hypoallergenic ingredients
Allergen-Free fragrance
Promotes overall coat and skin health
Increases coat thickness
Beneficial for all coats and skin types
Highly concentrated – Follow the user´s instructions for the best results on the original product´s listing
WHAT´S NOT IN IT
GMOs and cancerogenic substances

Ethanolamine Compounds (MEA, DEA, TEA, and others)
Mineral Oils

Parabens

Petrochemicals

Phenoxyethanol

Phthalates

Polyethylene Glycol (PEG)

Propylene Glycol (PPG)

Silicones

Sulphates

Synthetic Dyes
Triclosan
Why a "NO Nasties pledge"?
We firmly believe that investing in quality and certified organic products for your pet means investing in their health to ensure prosperity and well-being.
Specifically, we're proud to say that all Doglyness products are free from any of the ingredients listed here, which are instead common in most commercial pet shampoos and conditioners, and that can turn out to be harmful in the long run.
We are proud to be the first pet brand in the industry that uses patented Veganbottle® made with 100% raw compostable materials, including bottle caps and labels. Our bottle does not contain harsh oil ingredients and plastics, and it's made through a complex process of extracting sugar cane and plant combinations. In addition, we combat plastic pollution by banning any plastic or non-sustainable materials used in production, packaging, shipping, and storage.
Learn more about our Plastic-Free pledge here.
The Doglyness Way
At Doglyness, we take our responsibility seriously, striving to provide you with the most sustainable and transparent options for all your pet grooming needs. Recognizing the significant environmental impact of the pet grooming industry, we were driven to make a change. Extensive research and dedication have enabled us to discover effective methods of delivering top-quality products without compromising the well-being of our planet.
Well Worth The Price!
I'm not one to spend a lot of money on something like shampoo for myself, let alone my dogs. But as I venture into the show world with my poodles, I was hearing rave reviews about imortelle and oats by Doglyness. I decided to save up and buy some to try it out. To say I am impressed is an understatement. I haven't had a chance to use Oats yet, but Imortelle is amazing, it cleans like no other shampoo I've used and my boy had a shine to his coat after the first time using it! His coat is normally very dry and dull and really hard to fluff out, the curls were difficult to fully break apart even freshly clean. The brushes are also well worth it and did a great job getting tangles out of his coat after his bath. I'm absolutely going to order more in the future, it's more than worth it!
Love the natural scent of the product. Oats cleaned gently my poodles dandruff and gave the coat a natural deep black shine. Even my hands feel moisturated after washing my dogs! To my corded poodle, Immortelle left a deep clean and light feel to it. It was impressive how much brown water washed out of the cords, I haven't got the same cleaning results from other shampoos. Environmental friendliness and toxic-free are important things for me and I'm ready to pay a bit more for high quality and conscious products.
these products pleasantly surprised me. I bought them on recommendation and they are wow. amazing results, beautiful, fluffy and healthy coat
👌🐾❤
Amazing quality shampoo and conditioner
The brushes are excellent quality and the products are so good i use them for the dogs I groom professionally my clients are obsessed with the quality of coat after even one wash. Arrived safe really quickly cannot express enough how good the quality is!