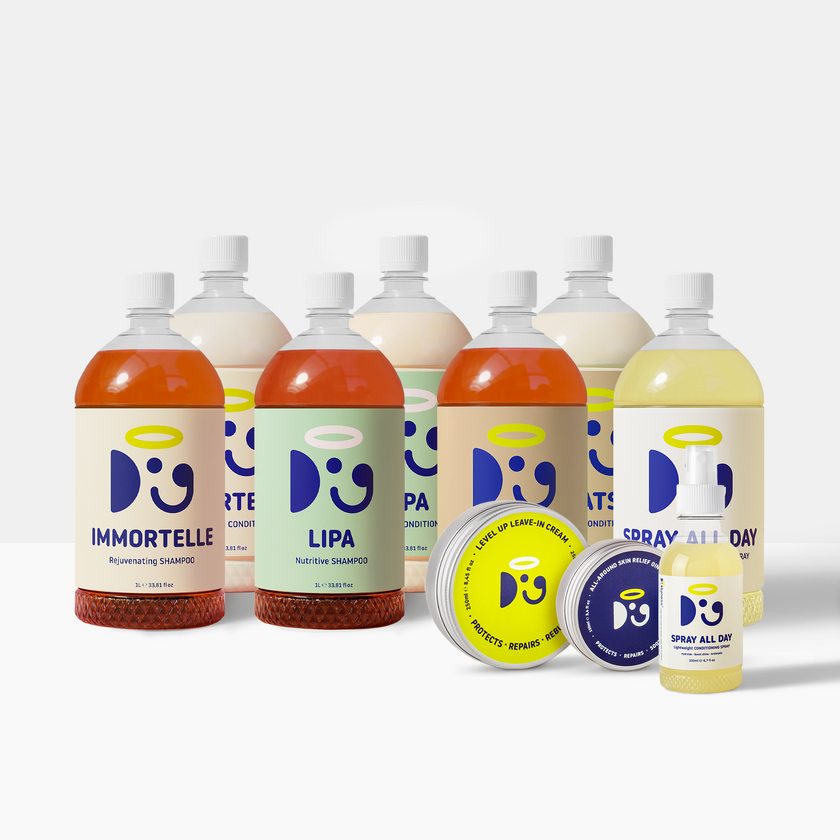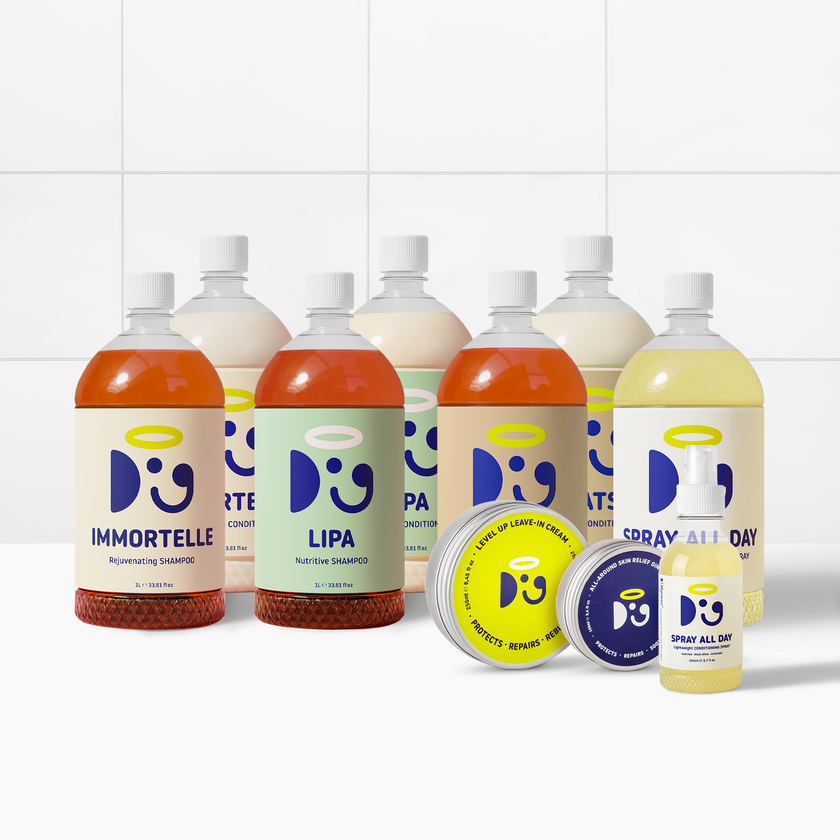 GROOMER´S BEST CHOICE | The Must-Have Professional Set
Introducing our comprehensive grooming bundle that covers all your dog's grooming needs:
Immortelle Rejuvenating Line: Experience the timeless appeal of our best-selling line, trusted by grooming professionals and beloved by pet parents since day one. Unlock profound regeneration and restore youthful elasticity with this exceptional collection. Specially formulated to suit all coat types, it nourishes, revitalizes, and transforms hair and skin, leaving them irresistibly healthy and beautiful.
Lipa Nutritive Line: Indulge your furry companion with the ultimate nourishing treatment for severely dry and damaged coats. From root to tip, our Lipa Nutritive Line delivers intense hydration and deep nutrition, replenishing health and vitality. Watch your dog's coat and skin transform remarkably, radiating strength and vibrancy.
Oats Calming Line: Discover the perfect solution for sensitive skin with our Oats Calming Line. Delicate and soothing, this line offers a gentle yet poweful cleanse that calms and balances, providing relief without irritation. Say goodbye to itchiness and hello to balanced, healthy skin. This line also enhances volume and structure, resulting in coats that exude natural beauty.
Level Up Leave-in Cream: Elevate your grooming routine with our Level Up Leave-in Cream. This luxurious cream adds an extra layer of protection to your dog's coat, enveloping each strand in a nourishing shield. As botanical ingredients penetrate the follicles, they provide essential nutrients, promoting optimum health and radiance from within. Experience the joy of silky-smooth hair that shines with vitality.
All-Around Skin Relief Ointment: Nurture and heal your dog's skin with our 100% natural and non-toxic All-Around Skin Relief Ointment. Crafted to support skin regeneration, this potent ointment aids in healing wounds and irritations, providing much-needed comfort and relief. Watch as your dog's skin transforms, restoring its natural balance and leaving it healthier than ever.
Spray All Day Lightweight Conditioning Spray: Experience the joy of hassle-free grooming as our spray effortlessly detangles and simplifies the brushing and scissoring process. The secret behind our Spray All Day lies in its advanced formula, carefully crafted to deliver optimal hydration without weighing down your dog's hair. This weightless hydration restores moisture and vitality, revitalizing even the dullest of coats.
Discover the ultimate grooming solution for all your needs, saving you valuable time during drying and delivering exceptional coat quality. Prepare to receive endless compliments from your clients' proud parents as they marvel at their beloved companions' undeniable beauty and health.
WHAT´S IN IT
1 x Immortelle Rejuvenating Shampoo 1L – 33.8 fl. oz.
1 x Immortelle Rejuvenating Conditioner 1L – 33.8 fl. oz.
1 x Lipa Nutritive Shampoo 1L – 33.8 fl. oz.
1 x Lipa Nutritive Conditioner 1L – 33.8 fl. oz.
1 x Oats Calming Shampoo 1L – 33.8 fl. oz.
1 x Oats Calming Conditioner 1L – 33.8 fl. oz.
1 x Spray All Day Conditioning Spray 1L – 33.8 fl. oz.
1 x Level Up Leave-in Cream 250ml – 8.4 fl. oz.
1 x All-Around Skin Relief Ointment 100ml – 3.4 fl. oz.
1 x Spray All Day – Conditioning Spray 200ml - 6.8 16.9 fl. oz.
Separate closures: 6 x Plastic Lotion-Pumps (Please save and reuse them as long as they serve you. Products are originally packed in plastic-free packaging – LET´S CREATE LESS WASTE TOGETHER!)
Organic and vegan certified by Ecogea.org
≤ 98% Ingredients from natural origin
Filled in 100% compostable Veganbottle® (shampoos, conditioners & spray)
Tearless, hypoallergenic ingredients
Allergen-Free fragrance
Promotes overall coat and skin health
Increases coat thickness
Beneficial for all coats and skin types
Highly concentrated – Follow the user´s instructions for the best results on the original product´s listing
WHAT´S NOT IN IT
GMOs and cancerogenic substances

Ethanolamine Compounds (MEA, DEA, TEA, and others)
Mineral Oils

Parabens

Petrochemicals

Phenoxyethanol

Phthalates

Polyethylene Glycol (PEG)

Propylene Glycol (PPG)

Silicones

Sulphates

Synthetic Dyes
Triclosan
Why a "NO Nasties pledge"?
We firmly believe that investing in quality and certified organic products for your pet means investing in their health to ensure prosperity and well-being.
Specifically, we're proud to say that all Doglyness products are free from any of the ingredients listed here, which are instead common in most commercial pet shampoos and conditioners, and that can turn out to be harmful in the long run.
The Doglyness Way
At Doglyness, we take our responsibility seriously, striving to provide you with the most sustainable and transparent options for all your pet grooming needs. Recognizing the significant environmental impact of the pet grooming industry, we were driven to make a change. Extensive research and dedication have enabled us to discover effective methods of delivering top-quality products without compromising the well-being of our planet.