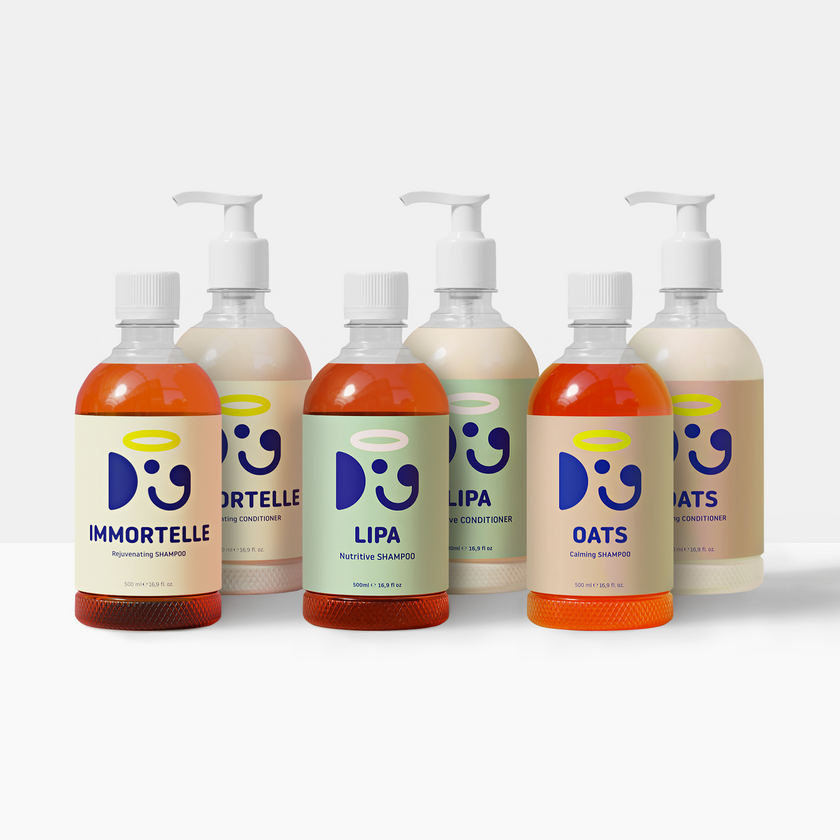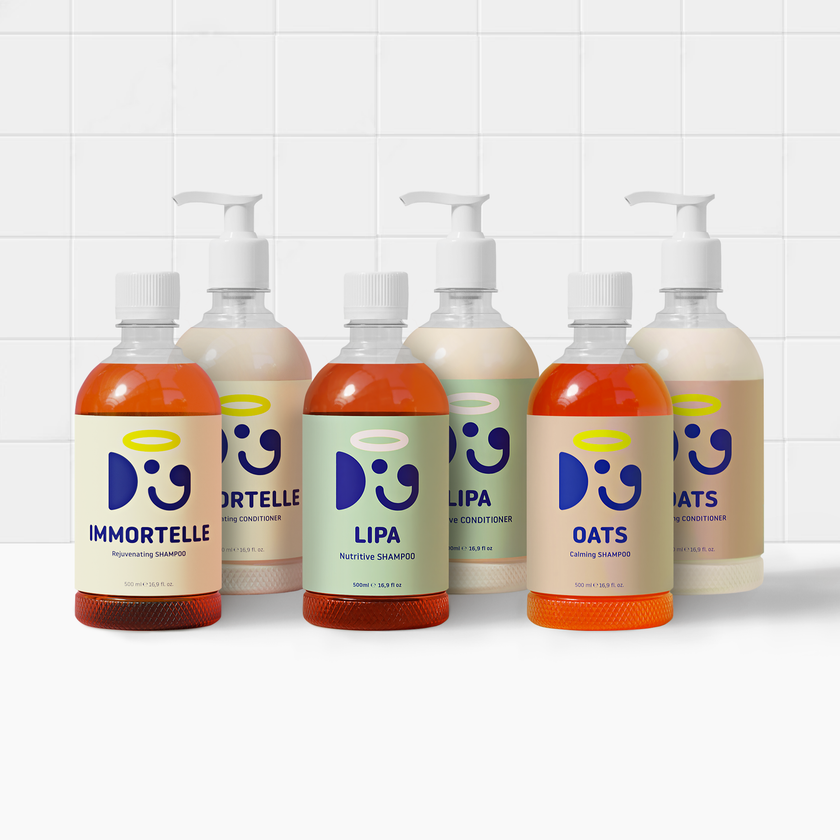 COAT CARE MASTERY SET | Unleash the Power of Doglyness
Introducing our entire collection of certified organic and vegan coat care lines, meticulously formulated for various coat and skin needs. Each of the 3 lines comprises a highly concentrated shampoo and conditioner designed to benefit your dog's coat and skin.
Experience the rejuvenating power of our Immortelle Rejuvenating Line. This remarkable blend profoundly regenerates, enhancing both hair and skin elasticity, resulting in a stunning texture regardless of your dog's coat type. With every wash, witness the transformation as this line promotes healthier, more resilient hair and revitalised skin.
Look no further than our Lipa Nutritive Line for severely dry and damaged coats. Formulated to nourish intensely, this line provides deep nutrition from root to tip, promoting overall coat and skin health. Watch as your dog's coat undergoes a remarkable revival, becoming softer, smoother, and radiantly healthy with each use.
Does your dog have sensitive skin or a soft coat lacking volume? Discover the soothing benefits of our Oats Calming Line. Specially designed to offer a gentle and balancing cleanse, this line is perfect for those with the most delicate skin. Not only does it provide a calming effect, but it also adds volume and structure to soft coats, creating a more defined appearance.
At Doglyness, we prioritise improving coat and skin conditions while creating an optimal environment for healthy hair regrowth. Our carefully curated lines offer the perfect blend of natural ingredients, ensuring your dog receives the highest quality care. With our range of certified organic and vegan products, you can rest assured that you are providing the highest quality care to your furry friend, enhancing their overall well-being and showcasing their natural beauty.
WHAT´S IN IT
1 x Immortelle Rejuvenating Shampoo 500ml - 16.9 fl. oz.
1 x Immortelle Rejuvenating Conditioner 500ml – 16.9 fl. oz.
1 x Lipa Nutritive Shampoo 500ml – 16.9 fl. oz.
1 x Lipa Nutritive Conditioner 500ml – 16.9 fl. oz.
1 x Oats Calming Shampoo 500ml – 16.9 fl. oz.
1 x Oats Calming Conditioner 500ml – 16.9 fl. oz.
Separate closures: 3 x Plastic lotion pump / 3 x Disc-top (Please save and reuse them as long as they serve you. Products are originally packed in plastic-free packaging – LET´S CREATE LESS WASTE TOGETHER!)
Organic and vegan certified by

Ecogea.org

≥98% Ingredients from natural origin
Filled in 100% compostable Veganbottle®
Tearless, hypoallergenic ingredients
Allergen-Free fragrance
Promotes overall coat and skin health
Increases coat thickness
Beneficial for all coats and skin types
Highly concentrated – Follow the user´s instructions for the best results on the product´s original listing
WHAT´S NOT IN IT
GMOs and cancerogenic substances

Ethanolamine Compounds (MEA, DEA, TEA, and others)
Mineral Oils

Parabens

Petrochemicals

Phenoxyethanol

Phthalates

Polyethylene Glycol (PEG)

Propylene Glycol (PPG)

Silicones

Sulphates

Synthetic Dyes
Triclosan
Why a "NO Nasties pledge"?
We firmly believe that investing in quality and certified organic products for your pet means investing in their health to ensure prosperity and well-being.
Specifically, we're proud to say that all Doglyness products are free from any of the ingredients listed here, which are instead common in most commercial pet shampoos and conditioners, and that can turn out to be harmful in the long run.
We are proud to be the first pet brand in the industry that uses patented Veganbottle® made with 100% raw compostable materials, including bottle caps and labels. Our bottle does not contain harsh oil ingredients and plastics, and it's made through a complex process of extracting sugar cane and plant combinations. In addition, we combat plastic pollution by banning any plastic or non-sustainable materials used in production, packaging, shipping, and storage.
Learn more about our Plastic-Free pledge here.
The Doglyness Way
At Doglyness, we take our responsibility seriously, striving to provide you with the most sustainable and transparent options for all your pet grooming needs. Recognizing the significant environmental impact of the pet grooming industry, we were driven to make a change. Extensive research and dedication have enabled us to discover effective methods of delivering top-quality products without compromising the well-being of our planet.
Immortelle & Oats
I think these products are so unique and unlike anything else I've used. I tell myself to trust the process because I'm so used to more slimy and easier to lather shampoos so I feel like I'm not getting it lathered enough but by the time I get them dry their coat feels amazing and my hands aren't so dry! Only reason why I knocked down a star is because one of my pumps that came didn't work so I have to carefully pour a little shampoo out of my oats bottle and I'm scared to waste product because it's expensive.
Ich habe Immortelle und Oast Shampoo und conditioner bestellt .
Ich liebe das Resultat.
Das Fell fühlt sich super angenehm und elastisch an mit einer super Glanz
Thank the Dog for Doglyness 😍
I want to praise dogglyness after about one year of using immortelle and oats on my two standard poodles.
My older poodle has had cords for three years now and I was worried if dogglyness would loosen them and make the coat look ugly and fuzzy, but the absolute opposite happened: Even when using conditioner, the cords look tight and shiny after the wash and drying. From the first wash with dogglyness I was able to get stubborn dirt out of the leg and ear cords, which get (as you can imagine) full of sand/mud that is super hard to get off the cords. Dogglyness simply "eats" away the dirt, and I just have to squeeze the brown water out from the coat. I hadn't been able to get the stubborn dirt out with any other shampoos I had used. AND THE SMELL! Omg, I just washed him couple of days ago, I used about one tablespoon immortelle diluted to 1l hot water and same amount of conditioner. I didn't have time to blow dry him so I just went for 1 hour walk and left the rest to dry during the night. Some of the cords were still a little damp in the next morning so I was sure his coat wound start smelling bad... but it didn't! If you don't know, usually cords easily start to smell like wet/moldy laundry if not dried well. He smells _so fresh_! This product is a real miracle and a life saver!
Oats I have used on my younger poodle has had super dry skin and one could easily see the dandruff on his black coat after blowdrying and trimming. When using other "quality" shampoos, his coat usually looked dry/dirty even just after washing and drying. After using oats, the coat is shiny black with minimal amount dandruff.
Thank the Dog for Doglyness 😍
(If I have just one critique it's the bottles. Specially the pumps I got don't work. Otherwise, the product inside is perfect.)