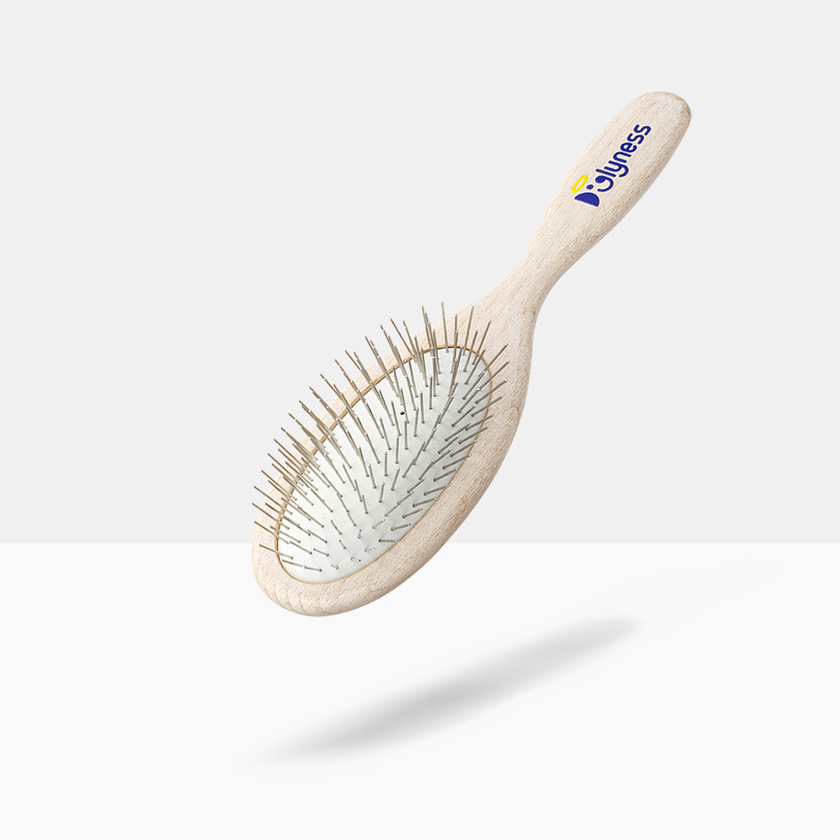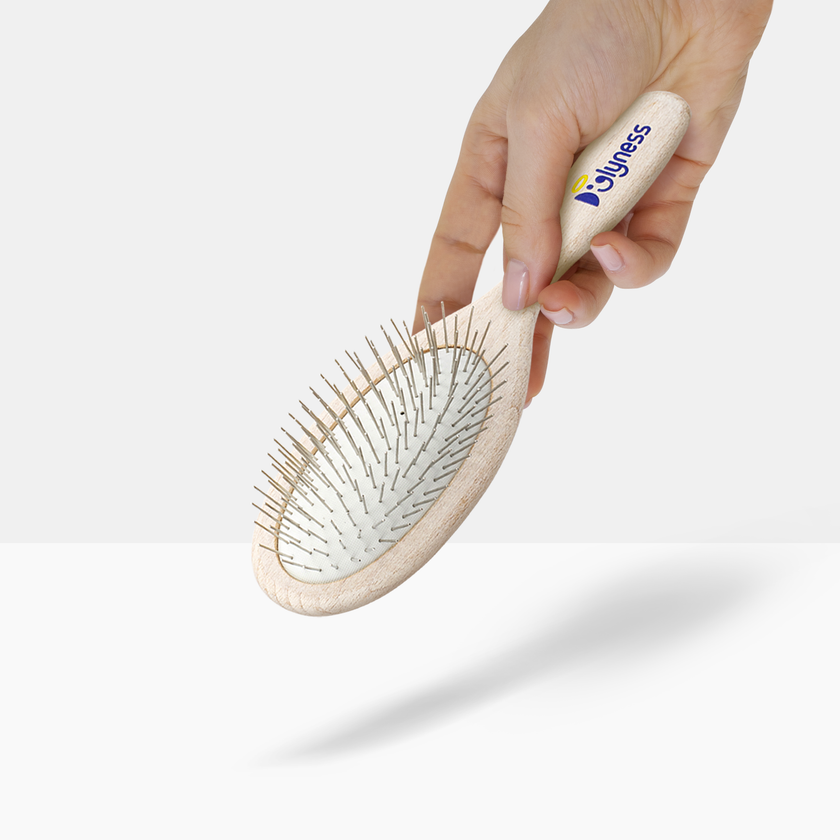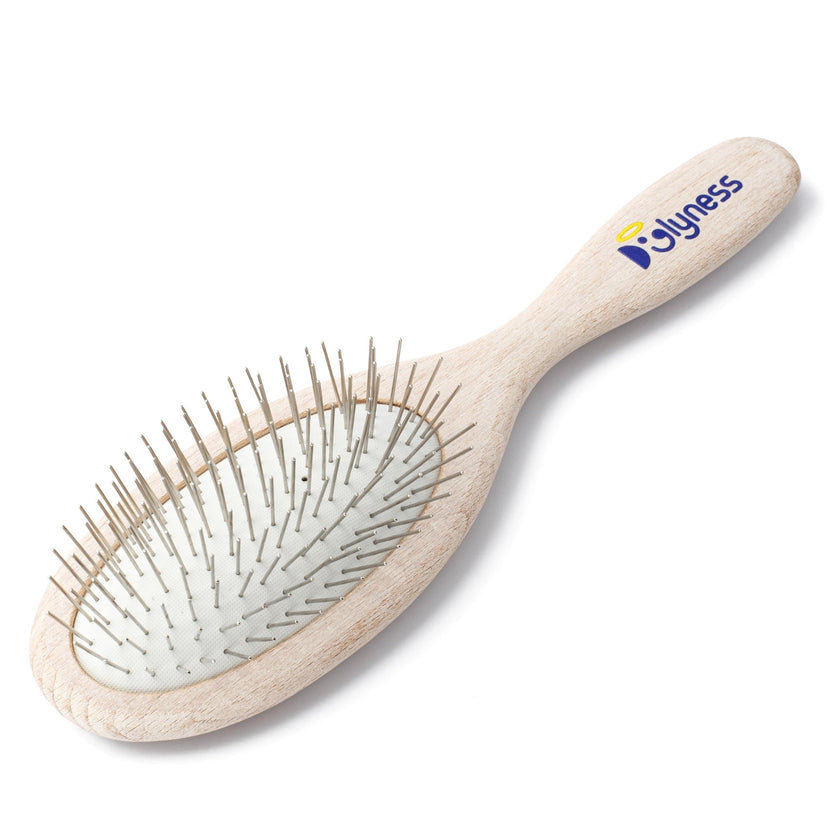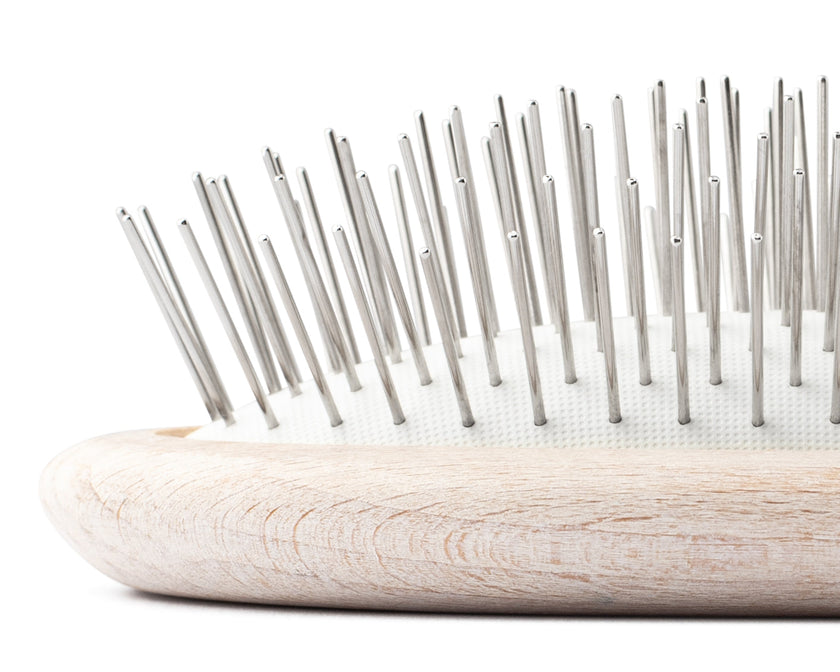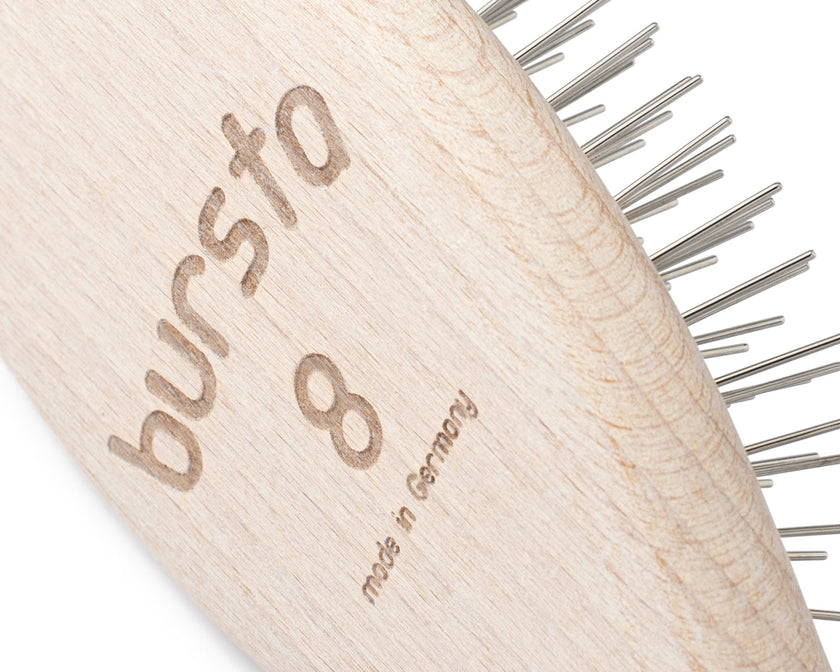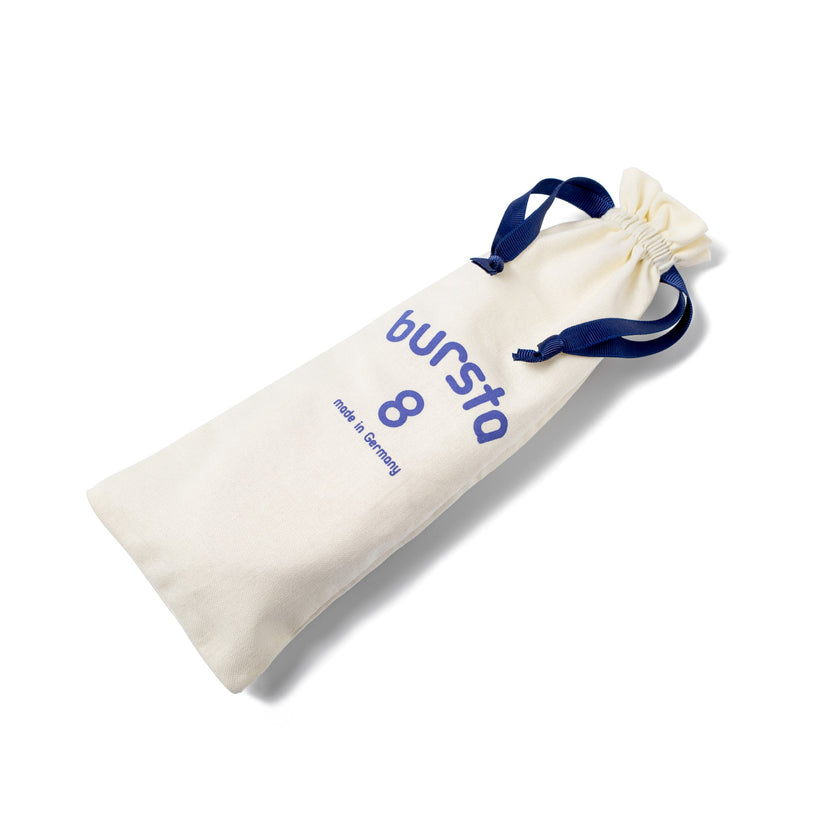 BURSTA 8 | Gentle Dog Pin Brush
To ensure the best results when using the Doglyness Bursta 8 Pin Brush, follow these simple steps:
Before brushing, it's important to use a detangling or conditioning spray. This helps prevent any potential damage to the coat. Spray the desired areas that you wish to brush or detangle.
Start brushing from the tips of the hair and gently work your way towards the roots. Use smooth, downward strokes to avoid discomfort and tugging. This technique allows you to gradually work through any knots or tangles in a gentle manner.
The Bursta 8 Pin Brush is specifically designed for medium to long-haired breeds with fine or more fragile hair types. Its careful construction ensures that the hair remains protected and the skin is not irritated during brushing.
This brush serves as an exceptional tool for both detangling and styling purposes. It can be used effectively before, during, and after the drying process. Take advantage of its versatility to achieve a polished and well-groomed appearance.
By following these guidelines, you can make the most of the Doglyness Bursta 8 Pin Brush and effectively detangle, style, and maintain the beautiful coat of your medium to long-haired dog. Enjoy a seamless grooming experience while ensuring the utmost care and comfort for your furry companion.
Made of FSC® certified beechwood
Lifts out dead hair and debris
Evenly distributes skin's natural oils
Anti-static pins (⌀0.85mm & 20mm)
Pleasant feeling on the skin
Contoured handle for ultimate comfort
Leaves a shiny and healthy coat
THE DIFFERENCE BETWEEN BURSTA 33 & BURSTA 8 PIN BRUSHES
The Bursta 33 and Bursta 8 Pin Brushes offer distinct advantages based on their design and functionality.
The Bursta 33 Pin Brush is the ideal choice for robust and thicker coats. Its thicker pins provide a secure grip, making it highly effective in tackling tangles and knots. This brush shines during the conditioning phase of bathing, effortlessly gliding through wet hair. With its gentle touch, it ensures a pleasant experience for your dog's skin while keeping the coat intact.
On the other hand, the Bursta 8 Pin Brush is specifically designed for a gentler touch and a precise finish in combing. It features soft rubber cushioning and flexible dull end pins, making it perfect for delicate skin and coats. You can confidently groom your pet knowing that this brush won't break the coat or cause any irritation.
Both brushes are essential for long-haired and double-coated breeds. The choice between them comes down to personal preference and the specific needs of your dog's coat. Whether you prefer the robust grip of the Bursta 33 or the gentle precision of the Bursta 8, you'll find the perfect companion for your grooming routine.
UNDERSTANDING FSC® CERTIFICATION
At Doglyness, we are committed to providing superior products while promoting responsible forest management. That's why Doglyness Bursta 33 Dog Pin Brush is exclusively made from FSC® certified beechwood. But what does this certification truly mean?
The FSC® (Forest Stewardship Council®) is an internationally recognized organization dedicated to advancing sustainable forest practices. When beechwood bears the FSC® certification, it guarantees that it originates from meticulously assessed forests that meet the stringent FSC® sustainability criteria.
By choosing Doglyness Bursta 33, you actively participate in the preservation of forests, protection of biodiversity, and support for local communities. The FSC® certification ensures that the beechwood used in our brush is responsibly sourced, upholding the ecological balance and respecting the rights of indigenous peoples.
Investing in Doglyness Bursta 33 allows you to groom your beloved pet with exceptional results and aligns with your values of environmental consciousness. Together, let's positively impact our planet, one brush stroke at a time, as we embrace sustainability through FSC® certified beechwood.
The Doglyness Way
At Doglyness, we take our responsibility seriously, striving to provide you with the most sustainable and transparent options for all your pet grooming needs. Recognizing the significant environmental impact of the pet grooming industry, we were driven to make a change. Extensive research and dedication have enabled us to discover effective methods of delivering top-quality products without compromising the well-being of our planet.
Works perfect, it is a must buy
FABULOUS brush
Went on the recommendation of a groomer we know from the UK who highly recommended this brush. I live in the US, and not a professional groomer, but wanted a brush for their poodle coats that would be gentle, long lasting and do a great job. It ticks all the boxes, and I am very pleased I made the purchase!
Lovely brush
Like all professional groomers I have a tendency to buy way too many brushes, combs and scissors-well this brush was worth buying! Bought for my Tibetan spaniel, it is perfectly gentle while being enough to get through the coat. Love the handle, most comfortable pin brush I've used (I have small hands). Excellent!
Perfect brush
Bursta 8 is absolutely perfect brush for blowdrying a standard poodle. It´ is gentle so it won´t damage the hair but it´ is firm enough to make the coat straight. It´ is also very comfortable and light to handle. By far the best brush I´ve tried!