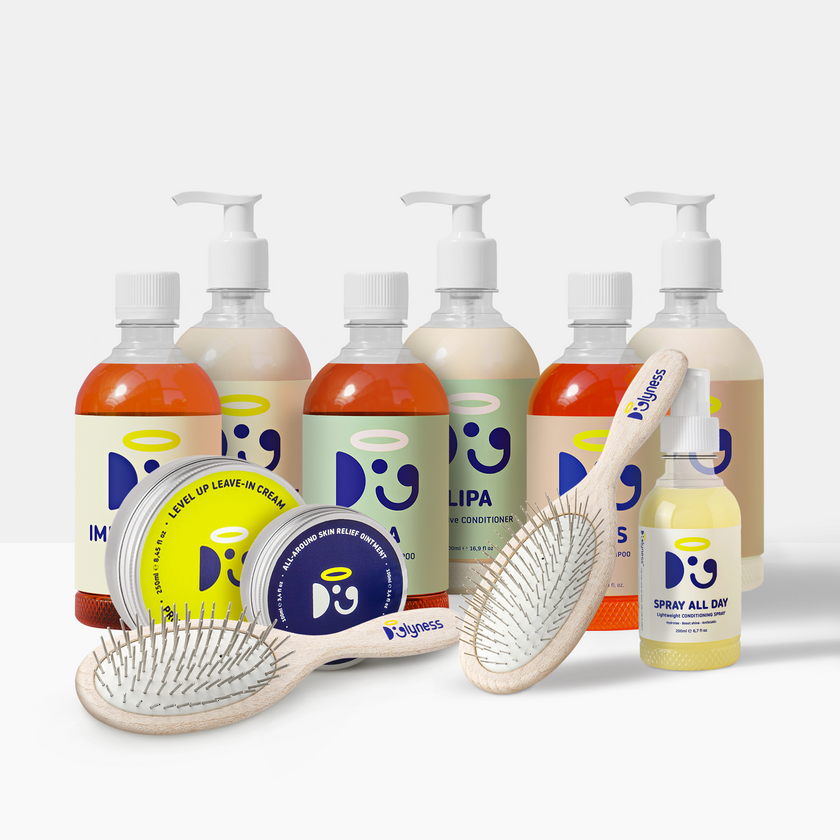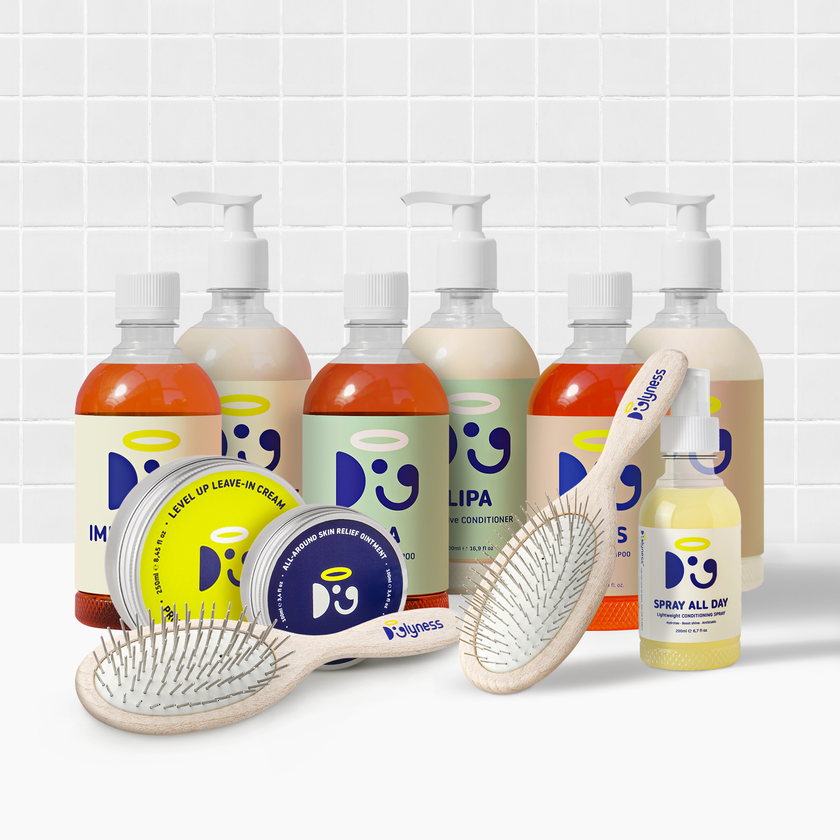 ALL THINGS DOGLYNESS | The Ultimate Dog Grooming Set
Introducing our comprehensive grooming bundle that covers all your dog's grooming needs:
Immortelle Rejuvenating Line: Experience profound regeneration and improve elasticity with this line. It is suitable for all coat types and promotes beautiful texture and enhances overall hair and skin health.
Lipa Nutritive Line: Indulge severely dry and damaged coats with intense nourishment. From root to tip, this line provides deep nutrition, restoring health and vitality for your dog's coat and skin.
Oats Calming Line: Achieve a calming and balancing cleanse without irritation, perfect for sensitive skin. This line can also enhance volume and structure for soft coats, ensuring a balanced and healthy appearance.
Level Up Leave-in Cream: Add an extra layer of protection to your dog's coat. This cream smooths and hydrates hair from within, as botanical ingredients penetrate the follicles, providing essential nutrients.
All-Around Skin Relief Ointment: Our 100% natural and non-toxic ointment aids in healing skin wounds and irritations. It supports skin regeneration, providing relief and comfort to your dog.
Spray All Day Lightweight Conditioning Spray: Experience enhanced shine and a seamless brushing experience with this spray. It adds weightless moisture while offering protective benefits for your dog's coat.
BURSTA Pin Brushes: These high-quality brushes are crafted in Germany for medium to long-haired breeds. They effortlessly detangle dry or wet hair, making grooming a pleasurable experience for both you and your dog.
Discover the ultimate grooming solution for your beloved companion.
WHAT´S IN IT
1 x Immortelle Rejuvenating Shampoo 500ml - 16.9 fl. oz.
1 x Immortelle Rejuvenating Conditioner 500ml – 16.9 fl. oz.
1 x Lipa Nutritive Shampoo 500ml – 16.9 fl. oz.
1 x Lipa Nutritive Conditioner 500ml – 16.9 fl. oz.
1 x Oats Calming Shampoo 500ml – 16.9 fl. oz.
1 x Oats Calming Conditioner 500ml – 16.9 fl. oz.
1 x Level Up Leave-in Cream 250ml – 8.4 fl. oz.
1 x All-Around Skin Relief Ointment 100ml – 3.4 fl. oz.
1 x Spray All Day Conditioning Spray 200ml – 6.7 fl. oz.
1 x Bursta 33 Pin Brush
1 x Bursta 8 Pin Brush
Separate closures: 3 x Plastic lotion pump / 3 x Disc-top (Please save and reuse them as long as they serve you. Products are originally packed in plastic-free packaging – LET´S CREATE LESS WASTE TOGETHER!)
Organic and vegan certified by Ecogea.org
≤ 98% Ingredients from natural origin
Filled in 100% compostable Veganbottle® (shampoos, conditioners & spray)
Tearless, hypoallergenic ingredients
Allergen-Free fragrance
Promotes overall coat and skin health
Increases coat thickness
Beneficial for all coats and skin types
Highly concentrated – Follow the user´s instructions for the best results on the original product´s listing
WHAT´S NOT IN IT
GMOs and cancerogenic substances

Ethanolamine Compounds (MEA, DEA, TEA, and others)
Mineral Oils

Parabens

Petrochemicals

Phenoxyethanol

Phthalates

Polyethylene Glycol (PEG)

Propylene Glycol (PPG)

Silicones

Sulphates

Synthetic Dyes
Triclosan
Why a "NO Nasties pledge"?
We firmly believe that investing in quality and certified organic products for your pet means investing in their health to ensure prosperity and well-being.
Specifically, we're proud to say that all Doglyness products are free from any of the ingredients listed here, which are instead common in most commercial pet shampoos and conditioners, and that can turn out to be harmful in the long run.
The Doglyness Way
At Doglyness, we take our responsibility seriously, striving to provide you with the most sustainable and transparent options for all your pet grooming needs. Recognizing the significant environmental impact of the pet grooming industry, we were driven to make a change. Extensive research and dedication have enabled us to discover effective methods of delivering top-quality products without compromising the well-being of our planet.
Unlike anything else
I have been using Doglyness for about a year and half now on my standard poodle. After running out I experimented with other products, until I was able to order more and I can truly say nothing else compares. The results you get from this shampoo and conditioner (specifically the Immotelle line) is unreal. I didn't have to deal with the soft puppy coat/coat change and it's super thick, healthy and plush. Knowing his coat is in the best condition it can be is so satisfying.