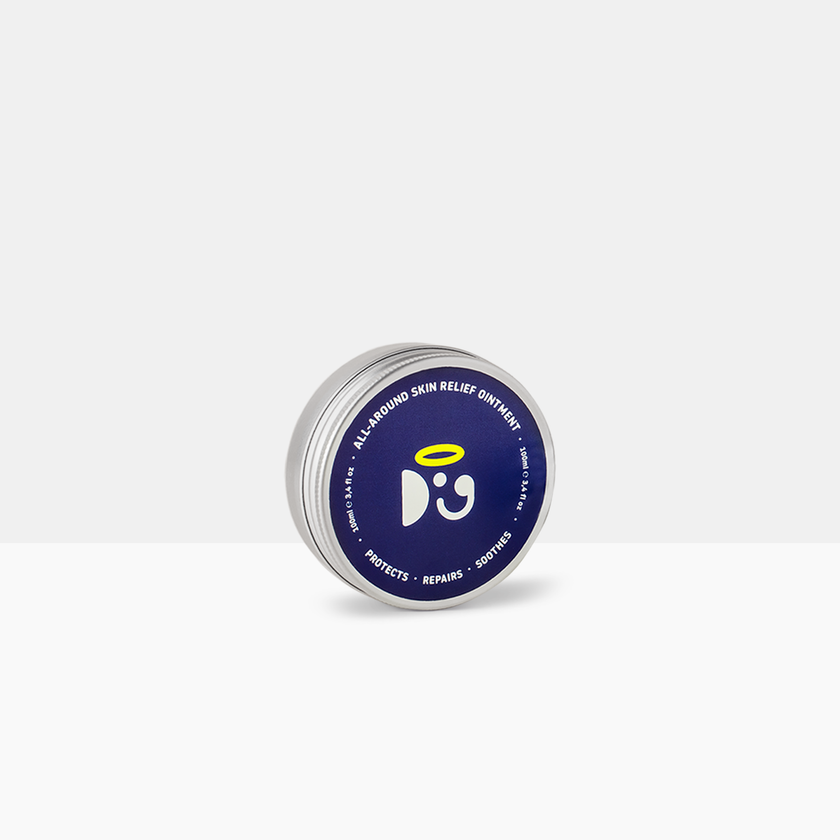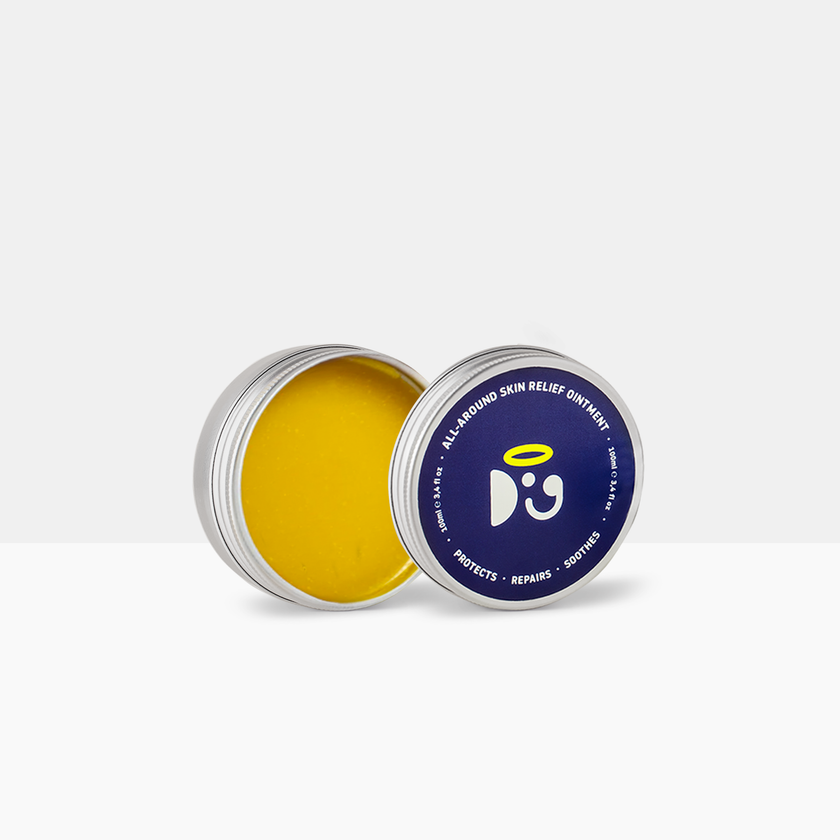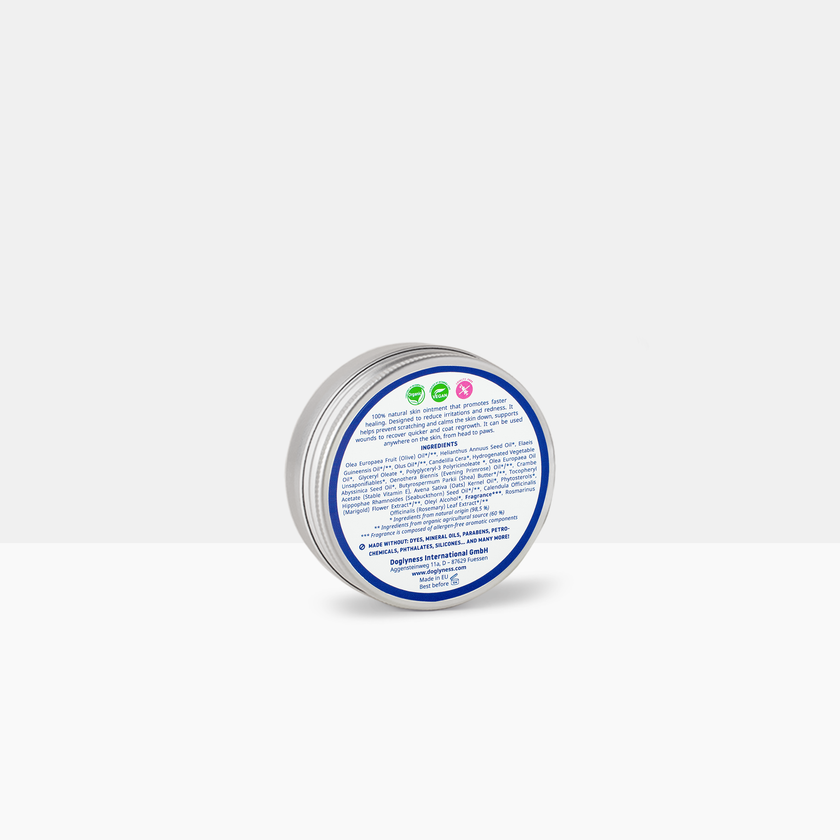 SKIN RELIEF OINTMENT | All Around Skin Regeneration
INCI
Olea Europaea Fruit (Olive) Oil*/**, Helianthus Annuus Seed Oil*, Elaeis Guineensis Oil*/**, Olus Oil*/**, Candelilla Cera*, Hydrogenated Vegetable Oil*, Glyceryl Oleate *, Polyglyceryl-3 Polyricinoleate *, Olea Europaea Oil Unsaponifiables *, Oenothera Biennis (Evening Primrose) Oil*/**, Crambe Abyssinica Seed Oil*, Butyrospermum Parkii (Shea) Butter*/**, Tocopheryl Acetate (Stable Vitamin E), Avena Sativa (Oats) Kernel Oil*, Phytosterols*, Hippophae Rhamnoides (Seabuckthorn) Seed Oil */**, Calendula Officinalis (Marigold) Flower Extract*/**, Oleyl Alcohol*, Fragrance (Allergen-Free Composition), Rosmarinus Officinalis (Rosemary) Leaf Extract*/**
* Ingredients from natural origin ( 98,5 %)
** Ingredients from organic agricultural source ( 60 %)
Certified organic and vegan by Ecogea.org
Indulge in the remarkable benefits of our carefully chosen key active ingredients, each infused with love and selected for their extraordinary qualities:
OLEA EUROPAEA FRUIT (OLIVE) OIL: Olive oil is rich in antioxidants and vitamins, which help protect the skin from free radical damage and maintain its elasticity. It also provides moisturization and nourishment.
HELIANTHUS ANNUUS SEED OIL: Sunflower seed oil is lightweight and non-comedogenic, making it suitable for all skin types. It helps to retain moisture, soothe the skin, and provide antioxidant protection.
ELAEIS GUINEENSIS OIL (PALM OIL): Palm oil contains antioxidants and vitamins that can help combat signs of aging. It also has moisturizing properties and can enhance the skin's natural barrier function.
OLUS OIL: Olus oil is a plant-derived ingredient that acts as an emollient, providing hydration and softening the skin. It helps to improve the texture and appearance of the skin.
CANDELILLA CERA: Candelilla wax is a natural wax obtained from the leaves of the candelilla shrub. It acts as a protective barrier on the skin, locking in moisture and preventing moisture loss.
HYDROGENATED VEGETABLE OIL: This ingredient is derived from various vegetable sources and functions as an emollient, moisturizing and conditioning the skin.
OLEA EUROPAEA OIL UNSAPONIFIABLES: Unsaponifiables are the components of an oil that are not converted into soap during the saponification process. Olive oil unsaponifiables contain phytosterols and antioxidants that help to nourish and protect the skin.
EVENING PRIMROSE OIL: Evening primrose oil is rich in fatty acids, including gamma-linolenic acid (GLA). It helps to moisturize the skin, soothe inflammation, and improve skin elasticity.
CRAMBE ABYSSINICA SEED OIL: Abyssinian oil is lightweight and easily absorbed, providing hydration without a greasy feel. It helps to improve the skin's texture and suppleness.
SHEA BUTTER: Shea butter is a rich moisturizer that contains vitamins A and E. It nourishes and hydrates the skin, while also protecting it from environmental stressors.
TOCOPHERYL ACETATE (STABLE VITAMIN E): Tocopheryl acetate is a form of vitamin E that provides antioxidant protection, helps to moisturize the skin, and promotes a more youthful appearance.
AVENA SATIVA (OATS) KERNEL OIL: Oat kernel oil is rich in essential fatty acids and antioxidants, which help to soothe and calm the skin. It also provides moisturization and helps to maintain the skin's natural barrier function.
PHYTOSTEROLS: Phytosterols are plant-derived compounds that have anti-inflammatory and skin-calming properties. They help to reduce redness, soothe irritation, and support the skin's natural healing process.
SEABUCKTHORN SEED OIL: Seabuckthorn seed oil is high in antioxidants, vitamins, and fatty acids. It helps to nourish and regenerate the skin, promote elasticity, and protect against environmental damage.
MARIGOLD FLOWER EXTRACT: Calendula extract has soothing and anti-inflammatory properties. It helps to calm and hydrate the skin, promote wound healing, and reduce skin redness.
OLEYL ALCOHOL: Oleyl alcohol acts as a conditioning agent, helping to soften and smooth the skin. It also helps to improve the spreadability of the product.
FRAGRANCE (ALLERGEN-FREE COMPOSITION): Fragrance is added to provide a pleasant scent to the product. An allergen-free composition ensures that the fragrance is less likely to cause allergic reactions or skin sensitivities.
ROSMARINUS OFFICINALIS (ROSEMARY) LEAF EXTRACT: Rosemary leaf extract contains antioxidants that help to protect the skin from free radicals. It also has antimicrobial properties and can help soothe and rejuvenate the skin.
These ingredients work together to provide moisturization, nourishment, antioxidant protection, soothing properties, and support for the skin's natural functions, contributing to healthier and more radiant skin.
Organic and vegan certified by Ecogea.org
97,5% ingredients from natural origin
Subtle allergen-free fragrance
Provides natural support for skin infections, hot spots and scrapes
Improves the moisture balance of skin to fight against allergens and other irritants
Supports renewal and health of skin, nails and paws
Easily absorbed into the skin for long-lasting results without buildup or greasiness
Filled in 100% reusable and recyclable aluminum jars
Beneficial for all dogs and skin types
WHAT´S NOT IN IT
GMOs and cancerogenic substances
Ethanolamine Compounds (MEA, DEA, TEA, and others)
Mineral Oils
Parabens
Petrochemicals
Phenoxyethanol
Phthalates
Polyethylene Glycol (PEG)
Propylene Glycol (PPG)
Silicones
Sulphates
Synthetic Dyes
Triclosan
Why a "NO Nasties pledge"?
We firmly believe that investing in quality and certified organic products for your pet means investing in their health to ensure prosperity and well-being.
Specifically, we're proud to say that all Doglyness products are free from any of the ingredients listed here, which are instead common in most commercial pet shampoos and conditioners, and that can turn out to be harmful in the long run.
JOIN OUR PLASTIC-FREE MISSION: RESPONSIBLE PACKAGING
We are proud to be the first pet brand in the industry that uses the patented Veganbottle®, a revolutionary packaging made from 100% raw compostable materials, including bottle caps and labels. Our commitment to sustainability extends beyond the bottle itself, as we actively combat plastic pollution by banning non-sustainable materials throughout our entire production, packaging, shipping, and storage processes.
Learn more about our Plastic-Free pledge and discover how we impact the environment positively. When you place an order, plastic pumps and closures will be provided separately at no extra cost with your first purchase. We encourage you to save and reuse these pumps and closures for future orders, as we strive together towards a plastic-free future and a greener planet.
The Doglyness Way
At Doglyness, we take our responsibility seriously, striving to provide you with the most sustainable and transparent options for all your pet grooming needs. Recognizing the significant environmental impact of the pet grooming industry, we were driven to make a change. Extensive research and dedication have enabled us to discover effective methods of delivering top-quality products without compromising the well-being of our planet.
Absolutely Incredible!
You can see the results for yourself in the photo! I used this on my horse Tula with the rain rot that she had gotten after a very wet couple of weeks. It started to heal almost immediately and at one month post the first application it looks amazing.
I like the smell and the texture, but I did not notice the magical effect some are talking about.
Sorry.